Teacher of the Year inspires passion, excellence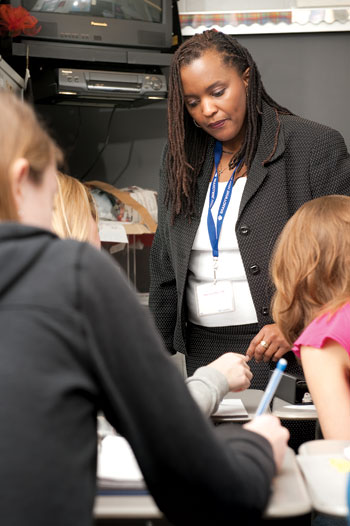 Evan Krape
ALUMNI | Mary Pinkston, AS '91, EP '95M, has earned the top honor of Delaware's Teacher of the Year for 2010. She was one of 20 school district finalists throughout the state—12 of whom are UD alumni (see sidebar).
Pinkston, a math teacher at Brandywine High School north of Wilmington and the daughter of an elementary school teacher, has 17 years of experience in the classroom, all in the Brandywine School District. The selection committee said it received numerous endorsement letters for Pinkston from both her colleagues and her students.
Cordie Greenlea, assistant principal of Brandywine High School, wrote that Pinkston has "a passion" for her students to excel. "She works to ensure that her students are proficient and successful in the courses she teaches. She sets high expectations and establishes clear goals for her students to reach," Greenlea said.
A former student, Kaitlyn Steffan, called Pinkston an inspiration to herself and many of her peers.
"You were the teacher that all of my fellow classmates seemed to respect the most. I think I can speak for all of them when I say it is because you had faith in us," Steffan wrote. "You helped me rediscover why I want to be a teacher in the first place. If I could make a group of students, or even just one student a day, feel the way you made me feel, then I will be eternally satisfied."
Pinkston received a bachelor's degree in secondary mathematics education at UD and returned to the University to earn a master's degree in education curriculum and instruction, specializing in secondary mathematics. She is involved in many professional associations and has received numerous awards and honors during her career.
In explaining her philosophy of teaching, Pinkston wrote, "There are no greater awards for me in this profession than when I see students' eyes light up when they finally understand a concept, grow to become independent learners, begin to appreciate mathematics and express gratitude about how much they've learned." The national Teacher of the Year award is announced during April.
Article by Cassandra Kramer