Shaping ocean policy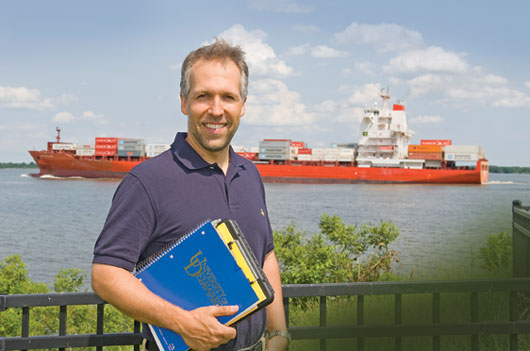 Photo by Kathy F. Atkinson
ALUMNI | When Gerhard Kuska was a graduate student at the University, one of his professors told him that getting his Ph.D. would be just the beginning of his education. For Kuska, the doctoral degree was that and more, as it also launched a new career that enabled him to follow his passion for the oceans and the environment.
In 1989, armed with a UD bachelor's degree in political science, Kuska began working in the international cargo and logistics field. Over the next eight years, he lived in seven cities and traveled to more than 40 countries.
Successful but stressed, Kuska landed in San Francisco in 1997 and began to volunteer on weekends at the Monterey Bay Aquarium, where he found the inspiration for a major life change.
"I realized how much I enjoyed the ocean connection, and I found that I was interested in conservation as well as in working with like-minded people," he says. "But I had seen business, and I knew that society could not stop, so we had to find ways to balance development and conservation."
At that point, Kuska returned to UD, earning his doctorate in 2005 in what is now the College of Earth, Ocean, and Environment. Since then, he has crafted ocean policy for the United Nations, worked on the staff of the U.S. Commission on Ocean Policy and served as director of ocean and coastal policy under President George W. Bush.
Now Kuska has moved halfway around the world, with his wife and two young daughters, to help develop and implement policies in the United Arab Emirates (UAE). As a principal at Good Harbor Consulting, he is serving as senior adviser for maritime strategy to the government and leadership of Abu Dhabi, the largest of the UAE's seven emirates.
"Potential terrorism and tensions with neighbors along the Arabian Gulf coast prompted Abu Dhabi's leaders to develop a maritime security strategy," Kuska says. "But they also recognized that a strategy is needed to manage these marine and coastal areas from multiple perspectives—not only defense, security and safety but also mobility, economic development and natural resource conservation.
"There are several marine protected areas, and the environmental agency in Abu Dhabi is very active in not only science and management but also education and outreach to the public to encourage stewardship."
Although his assignment in Abu Dhabi is temporary, it has contributed to the education that Kuska's professor said would begin when he finished his Ph.D.
"We have many unfair stereotypes about this part of the world," Kuska says. "How wonderful it would be if others could gain the insight into the Arabic and Muslim world that I was able to gain through this assignment."
Article by Diane Kukich , AS '73, '84M