King family creates tribute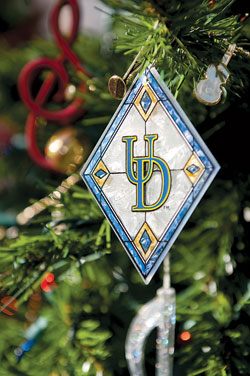 ALUMNI | The late J. Robert King, a longtime professor of music and founding director of the University of Delaware Marching Band, was remembered during the holiday season with a Christmas tree specially decorated by his four daughters, three of whom are UD alumnae.
The tree, with blue and gold lights and ornaments featuring University and musical themes, was part of the annual Delaware Hospice "Festival of Trees" display, a fundraising event that celebrates the lives of former hospice patients. Prof. King retired from UD in 1985, continuing to work part time as a professor emeritus, and died in June 1994. His daughter Barbara King Buckingham, AS '78, has been a social worker with Delaware Hospice since her father became ill and used the organization's services.
She and her sisters—Helen King Spence, AS '76 (who met her husband, Stanley Spence, AS '77, when both were UD Marching Band members), Beverly King Gilman '66 and the Rev. Margaret King Zeller—collected appropriate ornaments from their attics, on eBay and in Newark, Del., shops. The tree featured a wealth of French horns, which Prof. King played, and Moravian stars, reflecting his scholarly work with the Moravian Music Foundation. The tree stand was draped in a UD blanket.