In Hollywood, two Hens better than one
ALUMNI | Complementary pairings make two things work better together than they do alone. In a couple of happy coincidences, two pairs of men working in the entertainment industry say they happened to find a career complement for themselves in a fellow Blue Hen.
Jon and Evan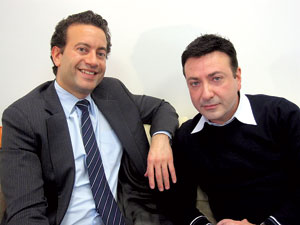 Hollywood is a game of relationships, says Jon Huddle, BE '92. He should know. His job as an agent revolves around them, including one with screenwriter Evan Spiliotopoulos, AS '91.
Huddle represents Spiliotopoulos, who is penning a feature film script for J.J. Abrams, producer of TV's Lost and director of the 2009 blockbuster Star Trek. Both men use superlatives in discussing the other, with Spiliotopoulos calling his agent "fantastic" and Huddle describing his client as "wildly talented." They didn't know each other at UD but met in Hollywood in 2007 through a mutual colleague.
Spiliotopoulos, who began his career in the mid-'90s writing movies for cable channels and other low-budget projects, eventually fell into something a bit more colorful.
"For the last eight years, I have been working in a lot of animation," he says. "I've worked primarily with Disney but also for a couple of other animated companies outside of the mouse." His résumé includes a catalog of titles familiar to the parents of young children: Jungle Book, Lion King 1½, Tarzan 2, Nutty Professor and Pooh's Heffalump Movie, which grossed more than $70 million worldwide.
His current work takes darker, more mysterious turns. He recently completed Wanted 2, the sequel to the blockbuster starring Angelina Jolie, and has turned his attention to reimagining Herman Melville's Moby Dick into the screenplay Whale. He credits Huddle with moving him out of what is called the mouse house.
"He's gone from writing smaller Disney label films to writing major tent-pole films for Universal, and that is what I love to do," Huddle says.
Huddle's own Hollywood story began after he graduated from law school. He worked his way up from the mailroom in the intensely competitive field of talent management and today represents a gang of filmmakers, concentrating his efforts on the folks who make movies rather than star in them.
He rattles off the various steps involved in making a movie, from script conception to the writing process to choosing producers and directors, rewrites, casting and more. He says representing actors is simply too far removed from the process for his professional taste.
"Being on the ground floor of creating movies is what gets me excited," Huddle says.
Rich and Ed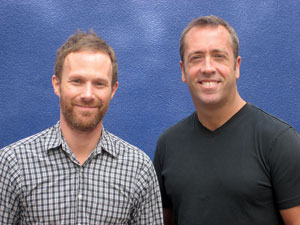 Another professional duo, Rich Bye, AS '92, and Ed Lavelle, BE '92, were acquaintances in Delaware whose current working relationship came about digitally– they were linked through a mutual friend on Facebook.
Just like in a Hollywood script, the chance encounter came at a pivotal point in the storyline. Bye was in the process of forming his own production company, Goodbye Pictures, and Lavelle had just finished work on the ABC reality show Homeland Security.
Bye had already chosen someone to be his company's first hire, but after a few meetings with Lavelle, he changed his mind and offered him the job. They now work together to develop projects for television, beginning with some reality show concepts. Last year, Bye secured a deal to produce a series for the Bravo network, where executives knew him from his work as executive producer on the hit show Project Runway.
Bye, who majored in political science at UD, started his career in television news, working with MTV's news department before moving on to MSNBC.
"I had an interest in making documentaries," he says. "I wanted to focus on addressing political and social issues." He says his reality television projects, which have also included A&E's Growing Up Gotti and shows for both MTV and VH1, use a documentary aesthetic: "They're real stories about real people."
Lavelle went to Los Angeles to act, earned a master's degree in producing from the American Film Institute and then toiled behind the scenes on such shows as The Apprentice, America's Next Top Model and Big Brother. Now, as executive in charge of production at Goodbye, he focuses on scripted shows, while his boss tackles the reality world. It's an arrangement he says he's happy to oblige.
"Reality shows are crazy because things will change on a dime," Lavelle says. "Something that took you two weeks to set up can get nixed at the last minute. It's frustrating."
He says Bye has also opened doors for his writing. Of the seven scripts he's written, Bye is currently pushing for production of three. "Working with Rich, the more I get to know him, not only do I respect him for what he does, but we get along so well," Lavelle says, calling that kind of working relationship rare in the entertainment industry.
Meanwhile, as Goodbye Productions awaits word from Bravo on possible series proposals, the company is filming a makeover show for Lifetime. "I'm pushing to shoot an episode in Delaware," Bye says. "We'd both like to get back."
Article by Andrea Boyle, AS '02