Arnie's biggest fan becomes a friend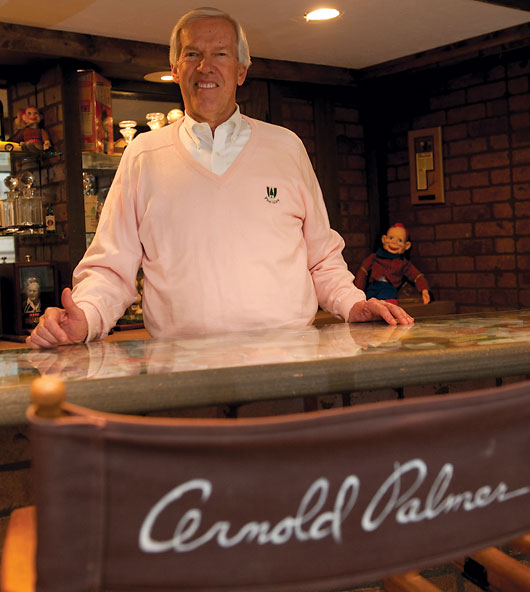 Photo by Evan Krape
ALUMNI | Howdy Giles stands and smiles in front of the green at the prestigious Caves Valley Golf Club outside Baltimore, waiting for his picture to be taken. To his right, legendary golfer and now close friend, Arnold Palmer. To his left, former President George H.W. Bush. Taking the picture is the president's personal photographer. Giles thinks to himself, "What an incredible day for a little ol' guy from the University of Delaware."
How did Dr. Howard Giles get here? The improbable true story of a devout fan becoming a super friend begins with a novice golfer and expert dentist's obsession with one of golf's greats.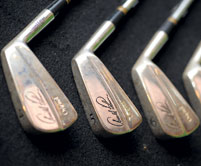 Giles began golfing in 1962, the year he started dental school, and as he explains, "Arnold Palmer was the king of golf, and I picked out Arnie as an idol." He says he acquired Arnold Palmer golf clubs and clothing and "was just a big fan" who dreamed of meeting and even golfing with Palmer some day.
The chance meeting between fan and icon took place in 1970, when a friend of Giles', who was also acquainted with Palmer, introduced the two in Delaware during the World Putting Championship. However incredible it was to meet the man whom Giles calls "the John Wayne of golf," he says, it was even more amazing when he got his first opportunity to play a round of golf with the living legend.
Giles says that when he got the call from Danny Bonar, Palmer's insurance agent, who told him that he had arranged an outing of golf with Palmer at Palmer's Latrobe Country Club, he "couldn't sleep all week." The call came on a Monday, and the game was arranged for Saturday. On the morning he was scheduled to play, Giles says that he woke up at 7 a.m. and dressed in his golf clothes. At 7:45, he says, "My wife goes, 'Will you get back in bed? You're not playing until 1,' so I got back in bed and laid down so I wouldn't wrinkle my clothes."
Despite sleep deprivation and raw nerves, Giles says, he shot a respectable score that day, which he attributes to Palmer coming over to him on the 10th tee and telling him to "just relax and have fun."
More than fulfilling both of his dreams of meeting and playing golf with Palmer, Giles eventually became his dentist, which resulted in many star referrals. Soon, he says, his office was crowded with the likes of Philadelphia Eagles linebacker Bill Bergey and Phillies World Series-winning manager Dallas Green, also a UD alumnus.
Giles and Palmer became increasingly close as the years went on, hanging out at each other's houses and spending holidays and birthdays together.
When an acquaintance told Giles that the type of friendship he and Palmer developed would probably never again happen between the top athlete in a sport—Palmer, with his legion of admirers known as "Arnie's Army," was the original superstar of professional golf—and a mere fan, he wrote a book about the experience, The King and I: An Unlikely Journey from Fan to Friend.
When asked how Palmer reacted to the book, the author leans back and relays what Palmer said: "The book's great, but they should have called it The King and Arnie."
Article by Adam Thomas