Senior player serves up a silver medal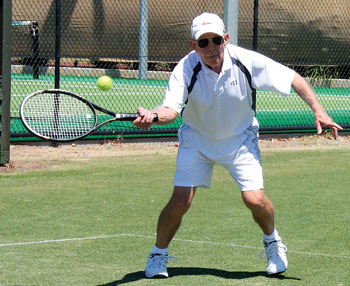 ALUMNI | After a lifetime of accomplishments in the chemical industry, Richard Emmert, EG '52M, '54PhD, now finds himself in the headlines of the sports world.
An internationally ranked tennis player in the men's 80-and-over category, Emmert recently competed at the International Tennis Federation (ITF) Senior World Team Championships in Perth, Australia, as a member of the U.S. Gardner Mulloy Cup Team.
Twenty-three countries were represented at the championships, referred to as "the most coveted team event on the ITF seniors circuit" by Tennis News. The world's top players in each of five age divisions for men and four for women competed on grass courts at the weeklong event in November.
The U.S. Gardner Mulloy Cup team—consisting of Emmert, Clem Hopp, Graydon Nichols and Anthony Franco—won second place. "We all got silver medals around our necks," Emmert says.
He played only doubles in the Mulloy Cup, winning each of his matches. The following week, he competed in the individual world championships, losing his first singles match to the eventual champion and then making it all the way to the finals in the consolation track, where he lost in a third-set tie breaker.
After the tournaments, Emmert is ranked 25th in the world and fourth in the U.S. in his age group.
"I never expected to be playing this much competitive tennis, nor did I expect to be doing this well," he says. "I got a thrill out of wearing the official USA uniform and being part of the assembled team with the U.S. flag at the medal ceremonies. That made it really special for me."
Article by Diane Kukich , AS '73, '84M