Regional clubs provide sense of community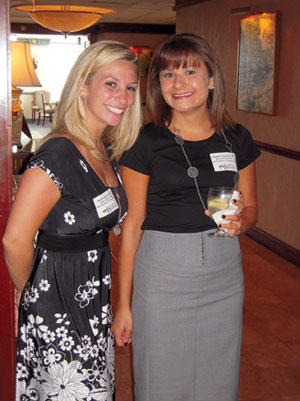 ALUMNI | Stefanie Spatola, BE '06, is an account manager at Crane Communications in Philadelphia, but her job in the advertising industry is just one of the many hats she wears. In particular, she is the special events chair of the UD Philadelphia Alumni Club.
In that role, Spatola is responsible for planning the various activities for the over 17,000 Blue Hens living in the Philadelphia area. Whether it is an alumni happy hour at a Center City bar, a family event at the Please Touch Museum or a summer evening at a Phillies game, alumni will find her at the center of the action.
"I decided to volunteer for the UD Philly Alumni Club because I wanted to keep the UD spirit alive," she says. "It was a great opportunity to get involved in something I loved, plan events, and a great way to meet new people in a big city."
Spatola says that the best aspect of volunteering for the Philadelphia Alumni Club is that it strengthens the bond between her, UD and her Blue Hen friends.
"The most enjoyable part is staying connected to UD. I feel that I could walk right back on campus like I never left," she says. "Volunteering has made the transition into the 'real world' much easier and has allowed me to stay in touch with my fellow classmates and friends.
"It is always wonderful to go to a professional event and meet someone else who shared in the UD experience. It makes Philadelphia seem a little smaller."
As a student, Spatola was a member of the Alpha Sigma Alpha (ASA) sorority, Big Brothers & Big Sisters and the American Marketing Association. Since graduating, she has stayed involved in ASA and is now the president of the ASA Philadelphia Alumnae Chapter and an ASA national volunteer who works with the local collegiate chapters. She says she also enjoys running with the Fairmount Running Club, where she trains to participate in road races across the country.
Spatola says her UD education has been a great help in her professional life, noting that her most rewarding UD experience came a year after graduation.
"I was just starting my first full-time job and was asked to prepare a marketing plan for one of our largest clients. Since I had saved everything from class, I pulled out my final project, a marketing plan, for reference," she says. "The realization that I was already using the things I had learned in college was gratifying. I remember even sending my professor an email, thanking him for such a wonderful assignment, which I didn't think was so wonderful at the time."
To other alumni across the country and around the world, Spatola urges Blue Hens to get active with, or start, their UD regional alumni club.
"I strongly recommend getting involved. It is a wonderful opportunity to meet and/or reconnect with people who have something in common with you—the University of Delaware," she says. "There are volunteer positions of all kinds which will not only enhance your résumé, but also bring new opportunities to your life."
To get involved in any capacity with fellow UD alumni, please visit www.UDconnection.com/get-involved for information on regional alumni clubs, class reunion volunteers, the UD Alumni Association and many other opportunities.
Article by Stephen Mangat, AS '04