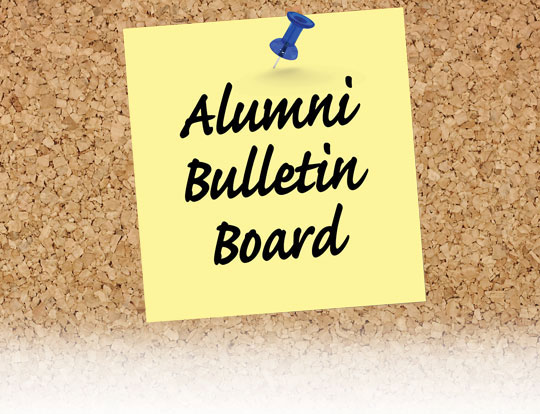 Outstanding alumni honored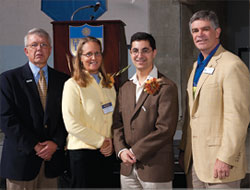 photo by Kathy F. Atkinson
Julie Moyer Knowles, HS '82, and Leonard Stark, AS '91, '91M, have been recognized with the 2009 Outstanding Alumni Awards, presented during Homecoming weekend by the UD Alumni Association. The awards celebrate exemplary dedication and volunteer work for the University and UDAA. Knowles, who earned her bachelor's degree in physical therapy, is the owner of Southern Delaware Physical Therapy, has been involved with the U.S. Olympic Committee and was on the medical staff for the Olympic Games in Korea. She is a past president of the Alumni Association and has served on numerous committees at UD. She sponsors the annual Julie Moyer Knowles Outstanding Student Athletic Trainer Award. Stark, who graduated with both bachelor's and master's degrees, became UD's eighth Rhodes Scholar. Currently a federal magistrate judge for the U.S. District Court in Delaware, Stark has been nominated by President Obama to become a judge in that court. Stark was on the Alumni Association board for 10 years and previously served as president. He has twice been the speaker at Winter Commencement.
Save the date for these upcoming regional alumni club events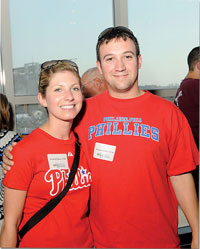 photo by Duane Perry
Regional alumni clubs are planning a variety of events, and all alumni are welcome. As part of the University's sustainability efforts, only e-mail invitations will be sent, so make sure to register for the alumni online community, UDconnection.com, and update your personal profile. If the contact information in your profile is correct, you will be on the mailing list for club events in your area. Registration for the online community is free and is exclusively for UD alumni. Below are a few events to put on your calendar; more will be added, so visit www.UDconnection.com/events for updates.
May 9, 2010
Philadelphia Alumni Club,
Dad Vail Regatta
May 19, 2010
"Driving Excellence" faculty tour, Restaurant Nora, Washington, D.C. This kicks off the "Driving Excellence" series with a talk by Prof. Willett Kempton, director of UD's Center for Carbon-Free Power Integration, who will discuss and take questions about offshore wind power, vehicle-to-grid power and other environmental issues.
July 17, 2010
Kent & Sussex Counties
Alumni Club,
Dewey Beach, Del.
August 19, 2010
Philadelphia Alumni Club,
Phillies game
August 20, 2010
New Castle County Alumni Club,
Wilmington Blue Rocks game
Association offers services to alumni members
All members of the UD Alumni Association—which is all alumni—are eligible to benefit from a variety of services, including a new discount for career-oriented certificate programs offered by Professional and Continuing Studies at the University.
Alumni get a 15 percent discount on the certificate programs, which provide practical, concentrated study in a specific area as a way to update skills, gain credentials for career advancement or retool for a job change. The credentials can be earned in a relatively short time.
Certificate programs include Business Analyst, Clinical Trials Management, Finance for Non-Financial Managers, Paralegal, Project Management, Six Sigma Green Belt and Strategic Human Capital Management.
For more information, visit www.pcs.udel.edu/certificate.
UDAA President Alan Brayman, BE '73, says the association's partnership with Professional and Continuing Studies is part of a comprehensive suite of services and benefits available to all alumni. Others include special alumni accounts as well as UDAA credit cards through Bank of America, discounted auto and property insurance through Liberty Mutual and short-term medical insurance from GradMed.
"As we continue our strategic planning process, we take into account the ever-changing lives of alumni and how we can best serve them," Brayman says, noting that the association is always seeking to add new programs.
To suggest a program or benefit the UDAA might offer alumni, send ideas to alumnet@udel.edu.
Where in the world are Blue Hens?
If you know any Blue Hens living outside the U.S., please encourage them to contact the Office of Alumni Relations with information about where they are living and what they are doing. The office will soon be expanding the reach of UD alumni clubs beyond the borders of the U.S. and wants to make sure it can keep everyone informed and involved. Already an alumni club has been established in South Korea, and UD's first international alumni event was held last October in Seoul. Whether you know an international student who returned home after graduating, an ex-pat Blue Hen working abroad or alumni serving our nation in another country, UD wants to stay in touch and to help them get in touch with one another in their own back yards—wherever that may be. Recently, Michael Watson, AS '95, wrote to Alumni Relations to say that he came across a car in Tunisia sporting a UD sticker. After finding the car's owner, he learned that the driver had attended UD several years ago and that YoUDee was dangling from the rearview mirror. The two alumni will soon be meeting in Carthage, so if you're in North Africa, let Alumni Relations staff know, and they'll get you in touch with the Blue Hens in the Maghreb. Alumni anywhere on the planet can update their contact information by emailing alumnet@udel.edu or by logging into the alumni online community at UDconnection.com.
Wanted: Commencement delegates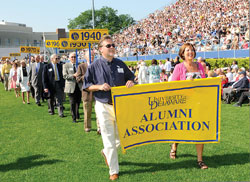 Photo by Duane Perry
It is a tradition at the University that, as part of Commencement exercises, two alumni from each class march in the procession honoring the graduating class. The next alumni delegates will follow the Class of 2010 into Delaware Stadium and will be seated on the field near the stage. Being a Commencement delegate is a great way to celebrate the achievements of the graduating class, and often the delegates are family members of new graduates. In fact, it's common for three generations of Blue Hens to walk at Commencement. Names of alumni delegates are printed in the Commencement program, and each delegate and a guest are invited to a reception before the ceremony. Commencement will be held Saturday, May 29. If you are interested in serving as a Commencement delegate, contact the Office of Alumni Relations at UD-delegates@udel.edu or (302) 831-2341.
Many ways to keep up with alumni
To keep informed about the University and up to date with all the activities, events and services available through the Office of Alumni Relations, Blue Hens have a wealth of options.
Follow Alumni Relations on the Web site www.UDconnection.com or the blog www.UDconnection.com/blog, through Facebook.com/UDalumni, Flickr.com/UDalumni or Twitter.com/UDalumni. To network with other alumni, try www.UDconnection.com/Linkedin.
Now, there's no excuse for losing touch.