Art adorns Baghdad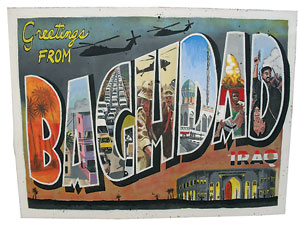 ALUMNI | Lt. Col. William "Jaybird" Martin, EG '89, found a creative way to pass the time while stationed with the Air Force at Baghdad's Camp Liberty, home to thousands of U.S. forces.
Concrete walls surround most of the buildings in the camp, and Martin says one day he decided "to brighten things up" by painting a mural on one of them. "I painted another, and then another," he says. "I wanted to create some escapism with a graffiti feel."
Last summer alone, he painted five such murals, including some portraits of former Air Force leaders, based on old photographs, and a "Greetings from Baghdad" satire of a vacation town postcard. Martin says he used whatever paints he could find in the camp and brushes that his wife sent him. He notes that he couldn't blend colors because the arid desert air caused his creations to dry almost instantly.
"This is the first time I've spent any significant time painting," he said in an email, describing the process as a good way to clear his mind. "Painting takes me miles away from Baghdad."
At UD, Martin majored in civil engineering and was an Air Force ROTC cadet.