Help for those seeking the American dream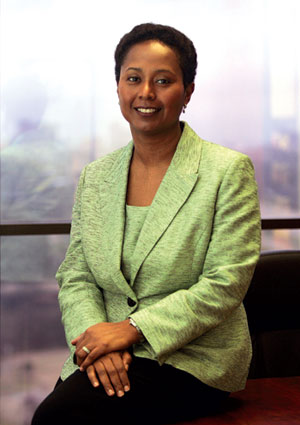 Photo by Stewart House
ALUMNI | For Dallas attorney Ann Massey Badmus, EG '84, practicing immigration law is more than a career. "It's personal for me," she says.
Badmus, who moved her law practice from Delaware to Texas about 10 years ago, is from a family of immigrants. Her parents met when her father was serving in the military in her mother's native Korea, and she then joined him in the United States.
Badmus says she has aunts and uncles whom her family helped move to the U.S., and her own husband, Taoreed Badmus, EG '90PhD, is a native of Nigeria who came to America to earn his doctorate in civil engineering at UD.
"I went through the legal process with him, applying as my spouse, and that experience was one of the factors that made me decide on this specialty and to gradually make immigration law the focus of my career," she says. "I get a lot of personal satisfaction out of what I do.
"Immigrating to the United States is a tremendous step for anyone, and if we can help them achieve their dream and have the opportunity to contribute to this country, it's very fulfilling."
Badmus never set out to be an immigration attorney—or even a lawyer, for that matter—and she acknowledges that her career has taken many twists and turns. "I seemed to change direction about every five years," she recalls, beginning with her decision to attend the University and study mechanical engineering.
"I first came to UD in a special Honors Program at a time when you could skip your senior year of high school and take college freshman courses," Badmus says. "Delaware was a good fit for me, and I appreciate the education I received there. Although I changed fields, my engineering background has been valuable.
"Unlike many lawyers I know, I am not afraid of technology but welcome it. My engineering background has also helped tremendously in describing technical details to the government when helping scientists and engineers immigrate."
After graduation, she worked as an engineer for Delmarva Power but began to consider graduate school in another field and decided on law. She attended night school at Widener University School of Law, graduating in 1989.
Badmus joined a Wilmington law firm as a corporate litigator and then opened her own practice, initially focusing on corporate, real estate and public utility law. But, she says, she began moving into immigration law when she realized that clients often had to go to Philadelphia or New Jersey to find an attorney in that field.
When she and her husband moved to Dallas in 1993, she opened the Badmus Law Firm, which has since grown to 13 employees, including two other attorneys. "Because of our location, people think we do mostly immigration law with Mexico and Central and South America," she says. "Although we do some work with that area, our practice is worldwide, including China, the Middle East, India, Africa and even Australia. It focuses mainly on physicians and researchers in the sciences and engineering."
The firm, which also runs monthly clinics in low-income neighborhoods, has drawn attention for its success. Badmus recently was named Outstanding Minority Business Owner by the Dallas Business Journal for her contributions to the area's economy and to the community. She makes frequent presentations to business and law organizations and has written a book, The Immigration Prescription: The Practical Guide to U.S. Immigration for Foreign Born Physicians.
Article by Sue Moncure