Support for women with breast cancer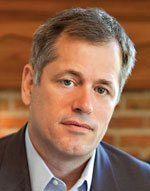 ALUMNI | John Anderson, AS '81, has had more firsthand experience with breast cancer striking the women in his life than he ever could have expected. As a result, however, he has found a mission—to help other men navigate the difficult road that a loved one's diagnosis of breast cancer brings.
An attorney specializing in entertainment and business law and president of an advertising and production company in Virginia and New York, Anderson has written a book on the subject, Stand By Her: A Breast Cancer Guide for Men, and a screenplay, Four Extraordinary Women, which aired on Lifetime. He was nominated for an Emmy for Lifetime's "Stop Breast Cancer for Life" campaign and appeared on the Today show in the fall with his wife and business partner, Sharon, to talk about their experiences with her diagnosis and treatment.
Anderson's mother died of the disease while he was in law school, and his sister and a close family friend, in addition to his wife, have been diagnosed and treated. His message, he says, is that a woman with cancer is the commander in chief of the situation, and her wishes needs and decisions are paramount while family and friends form the support corps.