Club activities heat up even in winter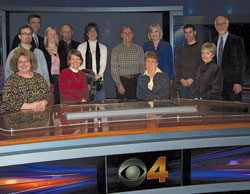 ALUMNI | The regional alumni clubs were busy throughout the winter, holding a variety of events attended by Blue Hens of all ages.
In particular, the Baltimore Alumni Club built on a successful 2009 by hosting several events in early 2010. Baltimore-area Blue Hens met for monthly happy hours, enjoyed days at the ice rinks in Reisterstown and Baltimore, hosted a pregame reception before the UD-Towson men's basketball game and organized a club kickball team.
Baltimore Alumni Club President Zach Bley, BE '02, says the club's role is multifaceted and he works with his fellow board members to make sure the club's programs reflect that.
"Our club's goal is to host fun events that appeal to alumni of all ages," Bley says. "From our family events at the ice rink and the ballpark to our happy hours and kickball team, we really hope that the Baltimore Alumni Club offers something to all Blue Hens.
"We're always on the lookout for new ideas so just let me know, and we'll start work on it."
Other regional events that helped kick off 2010 included the Boston Alumni Club's pregame gathering prior to watching the UD men's basketball game at Northeastern the D.C. Alumni Club's evening ice skating at the National Sculpture Garden, the Boston Alumni Club's first-time homebuyers session, the Philadelphia Alumni Club's Family Day at the Please Touch Museum and an assortment of happy hours. In Denver in late
January, alumni got a behind-the-scenes tour of the CBS-4 TV newsroom and studio, hosted by anchorwoman Kathy Walsh, AS '78.
Kevan Turman, UD Alumni Relations' associate director for alumni clubs and young alumni programs, says that alumni can expect to see different programs from more clubs in order to best serve all Blue Hens.
"We are moving toward restoring undeveloped clubs and revitalizing many active clubs, while not losing focus on the fact that we must continue to diversify events for a diverse alumni population with diverse interests across the globe," he says.
Regional alumni clubs host a variety of activities from social events to community service opportunities. The clubs and their events are open to all Blue Hens, offering a way for all alumni in an area to connect.
The clubs are always looking for volunteers, who can help out in numerous ways—providing leadership and guidance, planning events or simply attending gatherings and having a good time. For more information on the regional clubs, visit www.UDconnection.com/clubs.