Women's season opens with road trips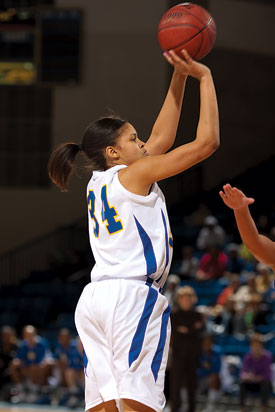 Photo by Mark Campbell
SPORTS | The Delaware women, under the direction of head coach Tina Martin in her 14th season at UD, will open their basketball conference play on Jan. 3 at 2 p.m., when they host CAA powerhouse Old Dominion at the Bob Carpenter Center.
With 13 home games this season, the team already has opened regular season play with seven back-to-back road games, including a Nov. 21 contest at Princeton—the first such matchup since the Hens traveled there during the 2000-01 season—and a trip to the Colorado State Tournament on Nov. 27-28.
After a mid-December break, UD plays host to Buffalo on Dec. 22 and Massachusetts on Dec. 30.
Following the Old Dominion home game, the Hens travel to George Mason on Jan. 7 and head to Boston for a Jan. 10 game at Northeastern. They return home to welcome the University of North Carolina Wilmington on Jan. 14 and the defending CAA champions, Drexel, on Jan. 17.
The Blue Hens will again face the Old Dominion Lady Monarchs on Feb. 11 in Norfolk, Va. At home on Feb. 14, they will take on Georgia State for the first and only time during regular season play.
As the season winds down in February, the Hens welcome Northeastern on Feb. 25 and trek to Towson on Feb. 28, before wrapping up regular season play when they host Hofstra on March 3. The CAA Championships will be held March 11-14 at James Madison University Convocation Center in Harrisonburg, Va.
Visit www.bluehens.com for a full schedule and for all your UD athletics news.