Volleyball fans see outstanding action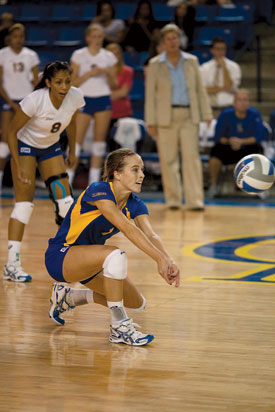 Photo by Mark Campbell
SPORTS | The 2009-10 volleyball season got off to a remarkable start for Delaware, as the team captured the Delaware Invitational title Sept. 5, set an attendance record in a come-from-behind victory over North Carolina on Sept. 18 and, by the end of that month, vaulted up seven spots in a weekly coaches association regional poll.
In the Delaware Invitational, the Blue Hens topped both Army and Rutgers on the final day of play to win the title. Jess Chason was honored as the invitational's Most Valuable Player after leading the way with 108 assists during Delaware's three matches. Katie Dennehy and Michelle LaLonde also were honored with spots on the All-Tournament team.
In the home game with the powerful North Carolina Tarheels, UD was trailing by two sets when an impressive effort in the final three frames led the Hens to an eventual 3-2 victory.
For the contest, 2,517 fans packed into the Bob Carpenter Center arena to watch the match-up featuring two teams coming off NCAA Tournament berths last season. The official attendance set a new record for a collegiate volleyball match in the state of Delaware. It also marked the highest attendance in a home game for a Delaware team in any sport other than football or basketball in school history.
In late September, after a week of three straight victories, UD advanced seven spots in the RichKern.com/American Volleyball Coaches Association regional poll to secure fifth place in the East—its highest since finishing the 2007 season ranked third in the East after advancing to the second round of the NCAA Tournament.
Visit www.bluehens.com for complete information about the season and for all your UD athletics news.