15 home games highlight men's play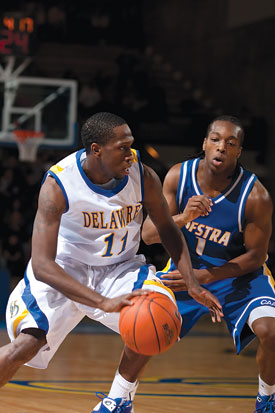 Photo by Mark Campbell
SPORTS |The men's basketball team will play its first Colonial Athletic Association home game Jan. 2, against longtime rival Drexel, at 2 p.m.
In all, the season that began in November features 15 home games and contests against Atlantic 10, Big East and Atlantic Coast Conference opponents. Delaware and Delaware State renewed their rivalry with a Dec. 1 game at DSU, the first time since the 2000-01 season the in-state teams faced each other.
After a mid-December break for final exams, the Hens go on the road for a game at former America East Conference opponent Vermont on Dec. 20. They then will face their toughest test of the season on Dec. 23, taking on 2009 Final Four participant Villanova at The Pavilion. Delaware wraps up the calendar year Dec. 29 when the Hens host Lafayette.
In addition to the Drexel contest, January will include a home game with William & Mary on Jan. 6 and a three-game home stand against Towson that opens Jan. 16. The Blue Hens welcome Old Dominion on Jan. 20 and Georgia State on Jan. 23, as UD goes 13 days between road games.
The home season will wrap up with a game in the ESPNU BracketBusters on Feb. 20 and a final home game against George Mason on Feb. 24. After a final regular season contest Feb. 27 at Towson, the Hens will compete in the CAA Championships, March 5-8, at Richmond (Va.) Coliseum.
Visit www.bluehens.com for a full schedule and for all your UD athletics news.