Outfielder makes the majors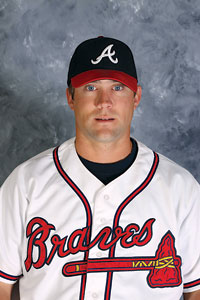 Atlanta Braves photo
SPORTS | Outfielder Reid Gorecki, a UD baseball standout for three seasons from 2000-2002, was called up from the minor leagues by the Atlanta Braves in mid-August, becoming the 10th Blue Hen in history to spend time on the roster of a Major League Baseball team.
Among other UD notables who competed in the big leagues were Kevin Mench, who had several strong seasons as an outfielder with the Texas Rangers from 2002-06; Mike Koplove, a relief pitcher for the Arizona Diamondbacks from 2001-06 who played for the U.S. in the 2008 Beijing Olympics; and Dallas Green, who pitched for the Philadelphia Phillies in the 1950s and 1960s and returned as manager to lead the team to a World Series championship in 1980.
Gorecki was called up from the Gwinnett (Ga.) Braves of the Triple A International League, where he appeared in 106 games and hit .286 with nine home runs and 49 runs batted in. He led Gwinnett with six triples and 15 stolen bases.
He got his first Major League at-bat and his first hit in an August appearance against the New York Mets at their new Citi Field. He also played during an important series that month against the Philadelphia Phillies at Citizens Bank Park.
A veteran of eight minor league seasons, Gorecki spent the first six years of his career with the St. Louis Cardinals organization. He signed with Atlanta as a minor league free agent in 2008.
Before being selected in the 13th round of the 2002 Major League Baseball draft, Gorecki starred for the Blue Hens for three seasons, leading the squad to two America East Conference championships.
Visit www.bluehens.com for all your UD athletics news.