Real-world projects draw students to composites center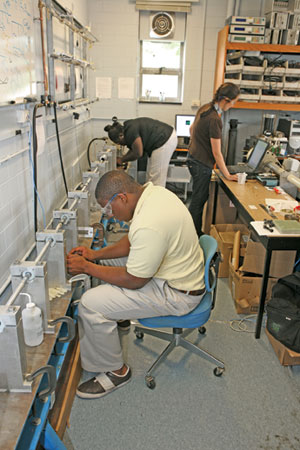 Photo by Dawn Fiore
RESEARCH | The University campus bustles each summer with undergraduates conducting research in a wide range of disciplines.
Summer 2009 saw plenty of activity and one of the busiest spots was the Center for Composite Materials (CCM), where almost 50 students arrived in June to gain valuable hands-on experience in its state-of-the-art composites fabrication, characterization and testing facilities. It was a record number for the 35-year-old center.
"We typically have 30 or 35 students, but the success CCM is enjoying in terms of research funding enabled us to make offers to more students this year," says Jack Gillespie, Donald C. Phillips Professor of Civil and Environmental Engineering and the center's director. The students came not only from UD but also from Winona (Minn.) State and Tuskegee (Ala.) universities in the United States, as well as the Ecole Polytechnique in France.
The popularity of CCM's undergraduate research program, which was established in 1981, is due in part to the multidisciplinary, real-world projects the center offers, says Gillespie, who has a joint faculty appointment in the Department of Materials Science and Engineering.
"The work here complements what the students learn in the classroom and exposes them to ideas they won't see in textbooks," he says. "For example, our Advanced Materials Intelligent Processing Center, a designated center of excellence funded by the Office of Naval Research, provides students with the opportunity to design, fabricate and work with state-of-the-art automated liquid composite molding systems.
"Similarly, in our two Army centers of excellence, students work with CCM and Army Research Laboratory researchers on characterization of lightweight composites for vehicle and soldier protection, multifunctional hybrid composites and nanomagnetic composites."
In some cases, a summer research project at CCM grows into a senior thesis. Jeff Knopf, who earned an honors degree with distinction in chemical engineering through the University Honors Program in 2009, began working at the center as a sophomore. He completed a senior thesis focused on electrospinning, a fiber production technique that uses electric fields to generate continuous polymer nanofibers.
While Knopf has spent a significant amount of time in CCM's research labs, most of the summer students were new to the center. Senior John Zerhusen, for example, learned about CCM through his major in the Department of Mechanical Engineering.
"I found out that it's one of the leading facilities in the country for this kind of research," Zerhusen says. "It seemed like the perfect opportunity for me, as an undergraduate with little real-world experience, to be able to work here. I want to learn as much as I can about the field of composites manufacturing in general."
Another first-time summer intern, Emory Head, a Tuskegee University senior, worked on a CCM project with shear-thickening fluid, which hardens on impact and has the potential to improve body armor and other protective clothing.
"This summer research opportunity has been a great experience," Head said while working in a CCM lab. "The work I do is hands-on and has great depth, and the learning opportunities are endless. UD has truly done a great job with this program, and I am extremely grateful to be a part of it."
In the 28 years of the program, the center has hosted more than 1,000 undergraduates, Gillespie notes. "Although CCM doesn't grant degrees, the education of students at all levels is a critical component of our mission," he says.
Article by Diane Kukich, AS '73, '84M