A loss for words
Graduate student works to save endangered language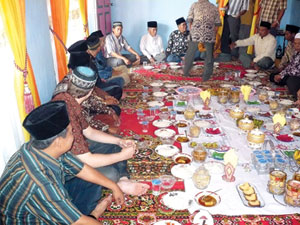 RESEARCH | Timothy McKinnon would cross an ocean, trek through a jungle and climb a mountain to save an endangered language. In fact, that's what the doctoral student has been doing on Sumatra, the largest island in Indonesia.
McKinnon, the recent recipient of a prestigious Fulbright Student Award, is working to document the Malay dialect known as Kerinci ("cur-in-chee"), which is spoken near the foot of Mount Kerinci, an active volcano that is the highest peak in Sumatra.
Nearly every village in this remote region has its own variation of Kerinci even though only a rice field may separate the communities. "It really is a mystery as to why their languages are so different," McKinnon says.
The Fulbright award will enable him to expand his dissertation research on Kerinci to document, describe and compare key grammatical properties of the language and its many variations. It's been estimated that Kerinci could have as many as 100 unique dialects.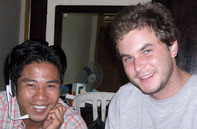 The work is being conducted in affiliation with Atma Jaya University in Jakarta and in consultation with Profs. Gabriella Hermon and Peter Cole, experts on Malay and comparative syntax at UD, and Prof. Uri Tadmor, an expert on Malay and historical phonology at the Max Planck Institute for Evolutionary Anthropology and Atma Jaya University. Tadmor also is an adjunct professor at UD.
Of the more than 6,500 languages in the world, half are on the verge of extinction, according to the National Science Foundation, which helped fund McKinnon's dissertation research.
By the end of this century, it is predicted that 90 percent of the world's languages will be gone. Kerinci increasingly will be threatened, McKinnon says, as transportation to the region improves and speakers come in contact with "high prestige" languages such as standard Indonesian and the trade language of Minangkabau, and as taboos restricting inter-village marriage begin to disappear and traditional dialects are no longer taught to children.
"Many languages will disappear inevitably," McKinnon says. "I think documenting oral literature, having a cultural record, is important. Linguistics looks at these dialects and how they are structured, giving a richer picture of human language and how it works."
McKinnon has long been intrigued by language. He studied Navajo in high school in Arizona and Polish at the University of Wisconsin. The quality of the linguistics program at UD lured him to graduate school in Delaware, he says.
Getting to his field research location took six hours by bus from Jambi City, then a couple of hours "off the beaten path" on a motorcycle taxi to the village of Sarolangun.
McKinnon worked with native speakers to record villagers' jokes and stories and found "incredible differences" in the way speakers form words from sounds and form sentences from words.
To get a clear sense of the variations, McKinnon and Heri Mudra, a student at Jambi University, developed an alphabet for the language and transcribed villagers' stories into a database at the Max Planck Institute's Jakarta Field Station, which was developed in part by UD. Access to the database will be made available to local schools and universities, as well as scholars worldwide.
Article by Tracey Bryant