Recognition for future academic leaders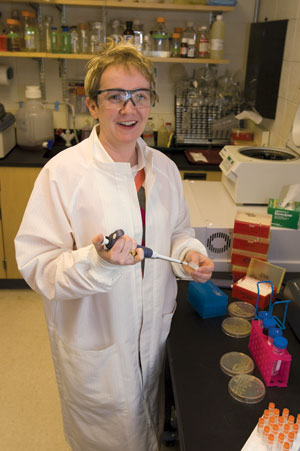 Photo by Ambre Alexander
RESEARCH | Two assistant professors are among the researchers most recently named to receive prestigious National Science Foundation (NSF) Faculty Early Career Awards. The highly competitive award is bestowed on researchers expected to become academic leaders.
E. Fidelma Boyd, biological sciences, and Jack Puleo, civil and environmental engineering, join three other assistant professors—Matthew Doty in materials science and engineering, Christopher Meehan in civil and environmental engineering and Jingyi Yu in computer and information sciences—whose NSF Early Career Awards were announced earlier this year. In addition, Joshua Zide, assistant professor of materials science and engineering, received an Office of Naval Research Young Investigator Award.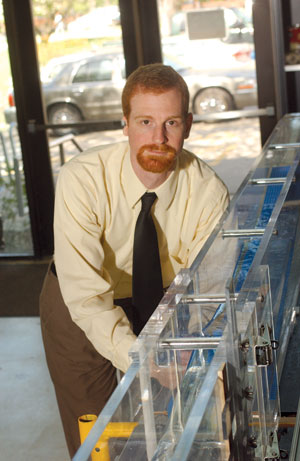 Photo by Duane Perry
Boyd's grant supports her study of pathogenic strains of microbes. She will develop Vibrio vulnificus, an important bacterial component of the aquatic coastal ecosystem, as a model organism for understanding the emergence of pathogenic microbes and the role of global environmental change. Many Vibrio species thrive in warmer waters, and both their local abundance and their geographic range have expanded in the past decade as ocean temperatures have increased.
"My research interests include understanding how and why certain isolates of a particular bacterial species make us ill while others do not," Boyd says. "V. vulnificus is an organism that can cause septicemia and wound infection with very high mortality rates in susceptible individuals."
It also causes significant economic losses in the eel aquaculture and occurs in high numbers in oysters and other mollusks.
Boyd plans to integrate her research and teaching by offering summer research and honor's thesis opportunities to undergraduates, as well as training for graduate students. The research will also be incorporated into a new course on pathogenomics, which Boyd says will provide more depth and hands-on experience in the subject than a traditional microbiology course includes. And, she says, she plans to bring advanced-placement high school students into her lab.
"I want to teach microbiology as it is practiced," Boyd says, "to prepare students in the field for a lifetime of scientific inquiry through research."
Puleo received his NSF award to study sediment transport in the so-called swash zone—the area near the shoreline where waves wash up and down the beach face. His research is aimed at developing a broader understanding of the physics of coastal sediment transport in this area, which could lead to significant improvement in the ability to predict such coastal phenomena as beach erosion.
"My interests are shoreline changes, how the sand moves and how beaches erode and are nourished," says Puleo, who uses video-based remote sensing to understand these processes. He has organized workshops on swash zone processes at UD and in Honolulu and Lisbon and has used video cameras in Rehoboth Beach, Del., to take hourly images.
With much of the population living near the coastline and with global sea levels rising and sandy coastlines eroding, there is a critical need for better understanding of sediment transport processes in the swash zone, Puleo says. He will carry out both laboratory and field studies using a novel sensor to measure sediment transport.
As part of his educational outreach, Puleo plans to initiate a "beach in a classroom" program for high school students and for teacher training workshops, using a 16-foot portable wave flume. He also plans to develop a summer internship program for underrepresented students in the fields of coastal engineering and oceanography.
Article by Diane Kukich, AS '73, '84M