Institute gives preview of graduate school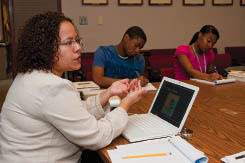 Photo by Evan Krape
ON THE GREEN | A group of students who gathered at UD during the summer for the Arts and Humanities Summer Institute (AHSI) had the opportunity to sample the intellectual intensity and camaraderie that are part of a graduate school education, while being mentored through the process of applying to graduate programs in the arts and humanities.
The four-week program culminated with a research symposium in which participants showcased the results of their experiences through discussions and poster presentations.
The goals of the summer institute include encouraging a more diverse pool of students to apply to arts and humanities programs at UD and giving participants an opportunity to work with some of the University's outstanding arts and humanities faculty.
"The students were here to learn about the field of conservation but also were introduced to careers related to museum studies and art history as well," Vicki Cassman, assistant professor of art conservation, says. "During their time here, they were exposed to what it takes to be a graduate student in these fields."
While the principal concentration was on photographic conservation in the art conservation laboratories located in Old College, students also were introduced to other media and other aspects of conservation.
"We had lectures, labs, field trips and guest speakers," Cassman says. "The students also received continued mentoring related to pursuing graduate school."
The Arts and Humanities Summer Institute is sponsored by the Andrew W. Mellon Foundation, the Unidel Foundation, the Office of Graduate and Professional Education, the College of Arts and Sciences and the departments of Art Conservation and History.