Presidential honors for teachers, mentor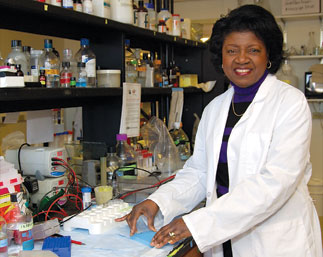 Photo by Tyler Jacobson
ON THE GREEN | A professor, who also is a member of the UD Board of Trustees, and three alumni have been honored by President Barack Obama for excellence in science, math and engineering teaching and mentoring.
Patricia DeLeon, Trustees Distinguished Professor of Biological Sciences and a board member, received the Presidential Award for Excellence in Science, Mathematics and Engineering Mentoring. The award is presented each year to individuals or organizations in recognition of the crucial role that mentoring plays in the academic and personal development of students studying science or engineering and who belong to minorities that are underrepresented in those fields.
Stacie Broden, EP '96, Jo Anne Deshon, EP '80, and Karen Fredricks, EP '75, received the Presidential Award for Excellence in Mathematics and Science Teaching, which is awarded annually to the best pre-college-level science and math teachers from across the country.
DeLeon, who was nominated by UD Provost Tom Apple in his previous position as dean of the College of Arts and Sciences, says she is blessed to have chosen a career that has exposed her to generations of bright students.
"Prof. DeLeon has transformed the lives of many young scientists, both undergraduate and graduate students who worked in her laboratory and young faculty members here at UD and elsewhere," Apple says.
DeLeon has mentored more than 100 trainees, including undergraduates, graduate students, postdoctoral fellows and visiting scientists from around the world, as well as young faculty in the early stages of their careers. A large majority of her undergraduate mentees are women, and about one-third of them are minorities. She also has served as chairperson of Women in Science and Engineering and on the President's Commission of the Status of Women at UD.
"While the true honor has been partnering with students as they create and build their scientific careers, I am thrilled to be a recipient of this tremendous award, which recognizes the importance of women and minorities in scientific, mathematic and engineering fields," DeLeon says.
She received her doctorate from the University of Western Ontario in 1972 and did postdoctoral studies at McGill University in Montreal until 1975. She has been a visiting scientist at the Johns Hopkins University School of Medicine and the University of Pennsylvania School of Medicine, and she was an adjunct professor at Penn State University College of Medicine.
DeLeon was the keynote speaker at the inaugural Mentoring Symposium of the American Society of Andrology in 2006 and at the Mentoring Symposium of the Society for the Study of Reproduction in 2008.
A 1996 nominee for the Howard Hughes Medical Investigator Award, she has three patents issued or pending, and her research has been supported by both the National Science Foundation (NSF) and the National Institutes of Health. She has received many honors and awards, including the NSF Career Advancement Award and the Medical Research Council of Canada Postdoctoral Fellowship.
A 1992 gubernatorial appointee to the UD Board of Trustees, DeLeon was re-appointed in 2005. She is a member of the Academic Affairs Trustee Committee.
Deshon is a first-grade teacher at John R. Downes Elementary School, and Fredricks teaches fourth grade at Thurgood Marshall Elementary School, both in Newark, Del., and Broden is a second-grade teacher at Pomperaug Elementary School in Southbury, Conn.