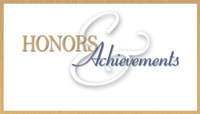 Cihan Cobanoglu, associate professor of hospitality information technology and management information systems, received the John Wiley & Sons Award for Innovation in Teaching from the International Council on Hotel, Restaurant and Institutional Education in recognition of his innovative, creative and effective teaching techniques.
George C. Hsiao, Carl Rees Professor of Mathematics who is internationally known for his pioneering contributions to the analysis of boundary integral equations, was recognized by a conference held in his honor at UD in August, which was attended by some 50 mathematicians from across the U.S. and around the world.
Clinton "Skip" White Jr., professor of accounting and management information systems, received the 2009 Outstanding Educator Award from the Strategic and Emerging Technologies Section of the American Accounting Association, which cited him for "outstanding leadership in the application of technology to accounting education."
Robin Morgan, dean of the College of Agriculture and Natural Resources and professor of molecular biology, was awarded the Delmarva Poultry Industry (DPI) medal in recognition of her two dozen years of support for the industry as a teacher, disease researcher and administrator at UD. She is a national leader in Marek's disease virus, which affects chickens, and has provided direction for a research program exploring the use of solar energy on chicken farms.
Xing Chen, a physics graduate student with a pending patent in nanomaterials fabrication, is one of the winners of the 24th International Young Artist Piano Competition. He was invited to play a 30-minute program in the State of the Arts Cultural Series at the Dean Acheson Auditorium of the U.S. Department of State in August.
Jerome R. Lewis, director of UD's Institute for Public Administration (IPA) and associate professor of urban affairs and public policy, was honored by the Delaware General Assembly for his "40 years of distinguished service to the University and to the citizens of the First State." Lewis founded what is now the 36-year-old IPA and also created—in cooperation with the General Assembly—the Legislative Fellows Program.
Mike Nichols, a custodial manager who serves the Rodney, Dickinson and Independence residence hall complexes, received the Excellence in Service to Residence Life Award from the American College Personnel Association, the nation's leading comprehensive student affairs organization.
David Pong, professor of history and director of the University's East Asian Studies Program, has received a 2009-10 Fulbright Scholar grant to lecture at the Chinese University of Hong Kong, where he also will serve as a consultant for the reform of the higher education system.
Thomas K. Gaisser, the Martin A. Pomerantz Chair of Physics and Astronomy, has received Germany's Humboldt Research Award in recognition of lifetime achievements in research. Gaisser is leading the UD team from Bartol Research Institute in the Department of Physics and Astronomy that is building "IceTop," a surface array of detectors for the world's largest neutrino telescope, being constructed deep in the Antarctic ice by an international research team.
Kelvin Lee, Gore Professor of Chemical Engineering and director of the Delaware Biotechnology Institute, was the inaugural recipient of the Biochemical Engineering Journal Young Investigator Award. This biennial award recognizes excellence in research and practice that contributed to the field of biochemical engineering.
Madeline Lambrecht, professor of nursing and former director of the College of Health Sciences Division of Special Programs, was selected as a Delaware finalist for the 2009 Jefferson Award for Public Service. She was cited for her work with programs to train Delaware healthcare professionals, social workers, pastors and psychologists to improve end-of-life care.
Limin Kung Jr., professor of ruminant nutrition and microbiology, received the American Feed Industry Association Award, which recognizes an individual who has made outstanding contributions to research of dairy cattle nutrition.
Tsu-Wei Chou, Pierre S. du Pont Chair of Engineering, received the 2009 Medal of Excellence in Composite Materials, which was established in 1984 to mark the decennial celebration of UD's Center for Composite Materials and has since been awarded to 29 individuals internationally.