Chemical engineer earns prestigious award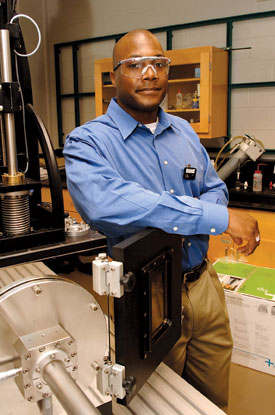 Photo by Kathy F. Atkinson
ON THE GREEN | Thomas H. Epps, III, assistant professor of chemical engineering, has been selected to receive a Presidential Early Career Award for Scientists and Engineers, the highest honor bestowed by the U.S. government on young professionals in the early stages of their independent research careers.
"These extraordinarily gifted young scientists and engineers represent the best in our country," President Barack Obama said in announcing the awards. "With their talent, creativity and dedication, I am confident that they will lead their fields in new breakthroughs and discoveries and help us use science and technology to lift up our nation and our world."
The awards are coordinated by the Office of Science and Technology Policy. Awardees are selected on the basis of two criteria: pursuit of innovative research at the frontiers of science and technology and a commitment to community service as demonstrated through scientific leadership, public education or community outreach. Winning scientists and engineers receive up to a five-year research grant to further their study in support of critical government missions.
Epps' research targets materials design and fabrication to create conducting membranes for current and next-generation energy generation and storage devices, such as batteries, fuel cells and solar cells.