New enterprise to focus on environment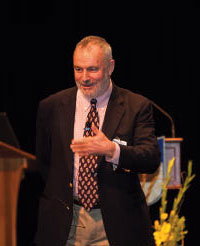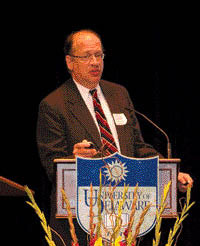 ON THE GREEN |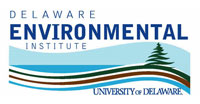 The University has launched the Delaware Environmental Institute, a multidisciplinary initiative focused on providing solutions to global environmental challenges through knowledge-based partnerships that integrate environmental science, engineering and policy.
Known as DENIN, the institute will be closely allied with the colleges at UD and other educational institutions in the state. Institute research initially will focus on three areas: Processes at the air, land and sea interface; environmental forecasting and restoration; and ecosystem health and sustainability.
Donald L. Sparks, S. Hallock du Pont Chair in soil and environmental chemistry at the University, has been appointed director of DENIN, which was officially opened at an Oct. 23 celebration on campus. The event drew more than 200 people, including a cadre of elementary and high school students who contributed posters on topics ranging from the benefits of trees to the problems associated with invasive species.
Speakers at the ceremony included Delaware Gov. Jack Markell, UD President Patrick Harker and Provost Tom Apple, Sparks, Delaware Department of Natural Resources and Environmental Control Secretary Collin O'Mara and U.S. Environmental Protection Agency Regional Administrator William Early.
In addition, two prominent scientists—Francois Morel, a geosciences professor at Princeton University, and William Schlesinger, president of the Cary Institute of Ecosystem Studies—delivered technical talks focusing on environmental issues.
Sparks acknowledged that Delaware faces several significant environmental challenges, including a fragile coastal ecosystem, a history of industrial production and agricultural land that is under pressure from increasing residential and commercial development.
"At the same time, Delaware is in an ideal position to pilot research strategies to address these issues," he said. "The First State has a track record of effectively identifying, prioritizing and acting on difficult issues and valuable opportunities. Delaware's small size enables effective communication and issue resolution among key stakeholders."
O'Mara said that addressing environmental issues is "not a one-discipline challenge" but will require scientists, engineers, policymakers and social scientists to come together.
Harker cited three academic majors—a bachelor of science in energy and environmental policy, a bachelor of science in environmental science and a bachelor of arts in environmental studies—that collectively provide UD students with a range of options encompassing policy analysis, economics, social and natural sciences and engineering.
A new endowed chair in the environment, named for former Board of Trustees chairman Howard E. Cosgrove and funded by the Unidel Foundation, will help to "make UD a true hub of cutting-edge environmental study," Harker said.
DENIN's goals are to initiate interdisciplinary research projects that integrate environmental science, engineering and policy; support interdisciplinary academic programs; forge partnerships among government agencies, nonprofits, industry, policymakers and the public to address environmental challenges; and coordinate and sponsor University-based interdisciplinary initiatives.
Article by Diane Kukich , AS '73, '84M