Accomplished group joins student body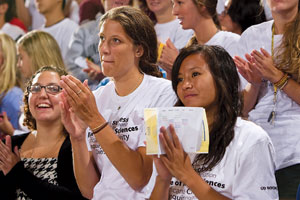 Photo by Ambre Alexander
ON THE GREEN | The 3,800 members of the Class of 2013 were welcomed to the University in ways both formal and fun during New Student Convocation in late August.
"You're a remarkable group," Provost Tom Apple told the freshman class. "You have remarkable talents and a great deal of energy and intellect."
As an alumnus who received his doctorate in physical chemistry from UD in 1982, Apple went on to say that UD transformed him. His goal for the class, he said, is "to make sure that you are transformed here by your experience" as well.
"Today is the beginning of something great," President Patrick Harker told the new students. "Life doesn't offer many moments like this—times of such clear and profound transition or, as your provost might say, transformation."
As the largest entering class in University history, the Class of 2013 is full of individual talents and remarkable accomplishments, Harker noted.
"We invited you here for a reason, but today individual accomplishment joins collective potential because today you are part of a class of 3,800," he said. "Today you become part of a worldwide family of Blue Hens, 140,000 strong."
In a second Convocation ceremony at the start of the academic year, the University also welcomed its newest graduate students to campus. The 1,300 such students were selected from about 7,000 applicants, including a 37 percent increase in applications from international students.
Harker said the goal of the University as reflected in its strategic plan is to continue to grow an already formidable research presence and to build on the excellence of the newest graduate students through a multidisciplinary effort involving game-changing work in agriculture, marine science, the life sciences and the further development of alternative energies such as solar, wind and catalytic technologies.