Three distinctive programs, one destination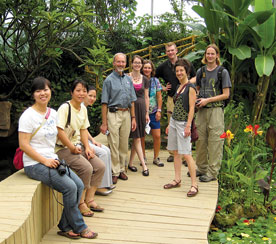 ON THE GREEN | China has become an increasingly popular location for study abroad programs and for a variety of student, faculty and research partnerships with the University. Even as travel to that nation becomes more common, UD's programs there offer uncommon opportunities.
Three exceptional programs occurred during summer 2009, bringing students of all ages to China for a wide range of educational experiences.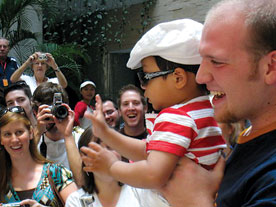 In June, about 60 members of the award-winning UD Chorale under the direction of Paul Head, chairperson of the Department of Music, performed at three leading Chinese universities. Xiang Gao, professor of music, helped organize the trip along with his wife Renee Dong, Chinese language instructor.
"It was an amazing experience for everyone," Gao says. "The UD students shared the stage with Chinese students, and they sang such songs as Danny Boy together. When the UD Chorale sang Usuli Boat in Mandarin Chinese, it brought the house down at all three concerts."
Head says the experience allowed his students the opportunity to gain firsthand knowledge both of a country that's of growing importance in the world and also of their Chinese peers.
"Part of the process of becoming a musician is to study and share the human experience and to learn about all of the things that make us human," Head says. "It's also really valuable for our students to grow personally by meeting students from other countries."
A much smaller group of students from the Longwood Graduate Program in public horticulture also toured parts of China during the summer, visiting such sites as botanical gardens and meeting with Chinese plant scientists and landscape professionals.
"We got to visit a wide variety of public horticulture institutions from contemporary display gardens and scientific collections to the traditional landscape design of Suzhou's Classical Gardens," says Daniel Stern, the graduate student who helped lead the group of five first-year fellows, joined by two representatives from Longwood Gardens. "The opportunity to interact with the staff at each enabled us to compare and contrast their differing missions, funding structures and operations. These experiences provided the Longwood Graduate Fellows with a fantastic opportunity to learn about the rich history and culture of China."
The group's itinerary featured visits to such sites as a Beijing flower market, a tropical botanical garden in the rainforest, medicinal plants gardens and a garden of rare and endangered plants.
Also during the summer, UD was selected by the U.S. State Department to host the National Security Language Initiative for Youth Summer Institute in Shanghai. The highly competitive program, co-directed by Jianguo Chen, associate professor of Chinese studies, and Maria Tu, assistant professor of Chinese, immersed 24 academically talented high-school students from across the United States in the language and culture of China through an intensive six-week program.
"The ultimate goal of the program is to encourage young Americans to learn about Chinese language and culture, to inspire future generations to be active participants in the international community and foster the development of future diplomats," says Chen, who secured the grant. The program will be offered again next summer.
The students, ages 16-18, lived with Chinese families in Shanghai, received intensive Chinese language instruction and attended guest lectures at East China Normal University, a UD partner institution.
"These young American 'ambassadors' have obtained a better understanding of the Chinese society and people," Chen says.