Expanded campus dedicated to children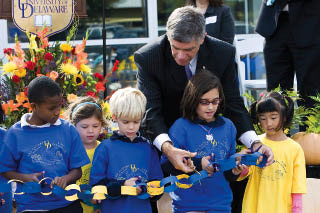 Photo by Ambre Alexander
ON THE GREEN | The University's Early Learning Center (ELC) now has company at its location on Wyoming Road in Newark, Del.
Starting this school year, the center has become part of a critical mass of academic activities focused on children and families that involves several hundred UD students and dozens of faculty from a range of disciplines. Joining the ELC at the complex, which has been informally dubbed the "Children's Campus," are two other longstanding University programs—The College School and the UD Laboratory Preschool.
"There are a number of reasons this campus is so special to the University of Delaware, none of them more important than the 400 children—infants to teenagers—to whom we dedicate it," President Patrick Harker said at the dedication ceremony in October.
Nearly 300 people of all ages gathered for the grand opening, watching as Harker lifted a pair of golden scissors, along with 20 children sporting blue plastic ones. But instead of the traditional red ribbon, these scissors sliced through a blue-and-gold paper chain created by students and families at the Laboratory Preschool and The College School. Each link was inscribed with a wish for the schools in their new home, designed expressly to meet their programming needs.
Harker cited the on-location training of aspiring teachers and the research in human development, educational strategies and assistive and instructional technologies that takes place at the Children's Campus. "This campus is a living laboratory, where research, training and service align, and I can't imagine a more fertile environment for exceptional teaching and learning," he said.
Construction of the new 19,000-square-foot facility was completed in August, just in time for the new school year. The two schools, formerly located in Alison Hall classrooms adapted for their use, now have room to expand in their new space.
The space has allowed The College School, which serves children in first through eighth grades who have been diagnosed with a variety of learning differences, to grow from six classrooms to nine, accommodating just over 100 students. The Lab Preschool, which serves 60-70 children, has expanded from two classrooms to three, so that the 4-year-olds no longer have to share a classroom with the 2- and 3-year-olds.
The latest in educational technology has been integrated into the new facility. Teachers, researchers, UD students and parents can observe Lab Preschool classes from booths equipped with controls for operating cameras and microphones located unobtrusively in the classrooms.
Classrooms in The College School feature interactive whiteboards, called SmartBoards, a technology that combines the capabilities of a whiteboard, overhead projector, computer monitor and audiovisual screen, all under the control of the teacher's laptop. The school also has a computer for each child in every classroom.
The ELC, which opened in 2004 in an extensively remodeled 27,000-square-foot building, serves 240 children from infancy through age 12.
"We are proud to be able to provide such a solid foundation for children and families in our area and serve as a model for other schools, preschools and child care centers nationwide," said Michael Gamel-McCormick, dean of the College of Education and Public Policy, which operates the three Children's Campus centers. He noted that together these centers form one of the largest and best-equipped facilities devoted to studying children and families in the country.
Article by Beth Chajes