Studying biology by the numbers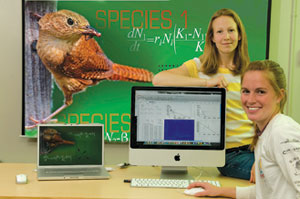 Photo by Kathy F. Atkinson
ON THE GREEN | As scientists first began tackling the mystery of swine flu last year, hoping to predict how dangerous and how contagious this new H1N1 strain of influenza might be, one thing was clear, biologist David Usher says: They weren't going to solve the puzzle without math.
"Mathematical modeling is absolutely essential in systems biology, to explain such things as the transmission of a disease and how a disease—from swine flu to cancer—operates in a population," says Usher, professor of biological sciences and one of the founders of UD's new quantitative biology (QBIO) program. Students in the interdisciplinary program take the same biology courses as other majors in the field but add a heavy load of math courses, some of them specifically designed to focus on life-sciences applications, and earn a bachelor of science degree in quantitative biology.
"Because mathematicians speak one language and biologists speak another, communication between the two can be a major problem" in research that requires expertise in both disciplines, Usher says. "By training someone in quantitative biology, now you have someone who speaks both languages."
QBIO is housed in the Department of Mathematical Sciences, where Associate Prof. Gilberto Schleiniger is the lead faculty member for the new major. He says the idea for establishing the program began with a 2002 report from the National Research Council, BIO 2010: Transforming Undergraduate Education for Future Research Biologists, which cited a need for biologists to have stronger math skills. The report also noted that students with an interest in and talent for math often overlook biology as a field of study in favor of a science with more emphasis on math.
In early discussions among faculty about the BIO 2010 recommendations, "We realized that a typical biology major probably isn't going to add a lot of math to their coursework, so we thought that the solution would be to create a new, interdisciplinary major," Schleiniger says.
"We also realized that the University of Delaware is an especially good fit for this type of program because we have a math department that focuses on applied math and a biology department that is very enthusiastic about incorporating more math."
He describes the QBIO curriculum as "very challenging," saying it includes more math courses than engineering majors are required to take, as well as some chemistry and physics courses in addition to the emphasis on biology. Some new sections of courses have been created, as well. A side effect of the new program, Schleiniger adds, is that it has sparked more collaborative research among faculty in the two departments.
The program has attracted national attention, the coordinators say, because—although other institutions also are putting more emphasis on incorporating math into biology—most are doing so at the graduate level, creating master's and doctoral programs in systems biology, for example. By contrast, Usher says, UD's undergraduate program is "creating a pipeline to help produce the next generation of really good scientists."
About 15 students, most of them interested in graduate school and careers in research, have chosen QBIO to date.
One of them, Kelly Pippins, originally majored in biology with a minor in math. But when she learned about QBIO, she says, she decided it would help her apply math to biology, "instead of just learning math and bio separately." Because she is considering graduate school in ecology or conservation biology, she says QBIO "is the perfect background for study in population dynamics and other ecology topics."
Visit www.udel.edu/qbio for more information.
Article by Ann Manser, AS'73