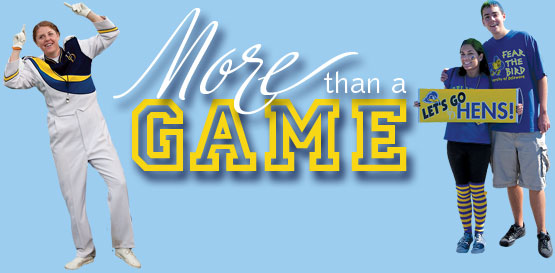 It happens only a half-dozen or so times a year, but when it does, the UD campus seems transformed by enthusiastic crowds and an atmosphere that exudes an extra measure of fun, noise and energy.

From tailgaters and tuba players to ticket takers and—of course—the team itself, there's nothing like a home football game to generate its own brand of excitement. While the contest on the field may be over in a few short hours, the preparations surrounding it begin long before and continue long after the game itself.

Grounds crew members work long and hard preparing Tubby Raymond Field at Delaware Stadium. The 22,000-seat stadium, one of the largest in the nation in Division 1-AA football, was erected in 1952 and enlarged several times.

Before the start of the 2000 season, eight poles of permanent broadcast-quality lights were installed and the South End Zone bleachers were replaced. The Blue Hen team now enters the stadium from a brick runway underneath the stands directly behind the goalposts.

When fans flock to the stadium for a home football game, they know they will also be treated to performances by the

UD Marching Band—with 334 musicians this year, it's among the largest in University history—and the award-winning cheerleaders, dance teams and mascots.

Of course, all the tailgating, performances and other entertainment that score points with fans are secondary to the athletic competition itself. A highlight of the 2009 season, drawing a spirited crowd of 20,585 to the Delaware Stadium, was the first-ever regular-season matchup between Delaware and Delaware State University. With a 27-17 victory over their in-state rivals, the Blue Hens claimed the inaugural First State Cup.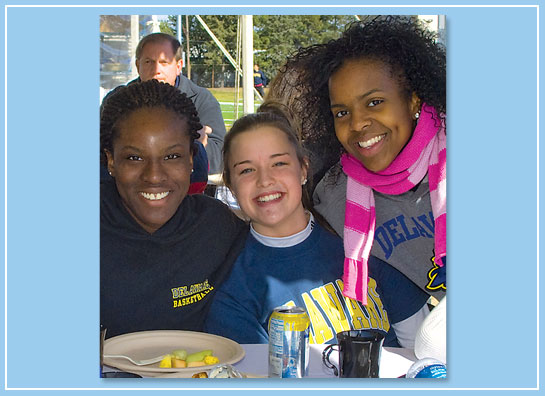 Photos by Greg Drew, Tyler Jacobson, Evan Krape and Duane Perry