Staff expands to enhance alumni programs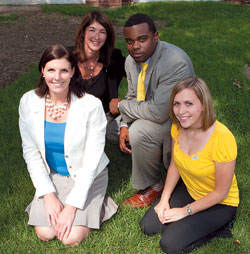 Photo by Ambre Alexander
ALUMNI | The Office of Alumni Relations has been a whirlwind of activity this year, planning the first Forum & Reunion Weekend, reorganizing and expanding the network of alumni clubs and enhancing the online community, UDconnection.com, as well as numerous other programs, benefits and opportunities offered to all Blue Hens.
In the midst of all the action, the office has added four new members to its team—Christine Scheirer, AS '09, Justine Talley-Beck, BE '98, Kevan Turman and Patricia Fitzgerald, AS '04.
Scheirer joined Alumni Relations in June as program coordinator for reunion and student programs, responsible for coordinating Forum & Reunion Weekend and Homecoming activities, as well as working with the student Spirit Ambassadors. As a part-time student worker in the office last year, she assisted with regional alumni clubs and Reunion Weekend.
Talley-Beck began working in May as the office's associate director of special projects and administration, where she is responsible for Alumni Relations' strategic plan and budget, managing the administrative staff and collaborating with departments within the University to identify opportunities such as partnership programming.
Turman, previously director of alumni relations for Lincoln (Pa.) University, joined UD in July as associate director of alumni clubs and young alumni. He is responsible for recruitment, training, cultivation and solicitation of volunteers to serve on the committees or boards of each Alumni Club as well as implementing programs designed to engage young alumni.
Fitzgerald began working at UD in July as the Alumni Relations Office's associate director of reunions and student programs, developing strategies to increase participation and involvement in Forum & Reunion Weekend and other reunion events.