Graduates honored for outstanding achievements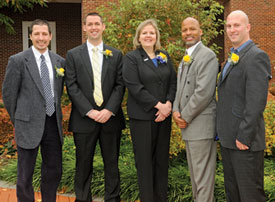 Photo by Duane Perry
ALUMNI | One of the opening events of Homecoming weekend, a ceremony awarding the annual Presidential Citations for Outstanding Achievement, this year recognized the accomplishments of five alumni. The award honors graduates of the past 20 years who exhibit great promise in their professional careers and/or public service activities. The 2009 recipients are:
David S. Bullock, EG '90, who is president and managing director of White Bullock Group, a business development firm in Murfreesboro, Tenn., which focuses on helping businesses increase sales through the use of specialized Web pages, social media and other tools. With Brent Leary, BE '89, he is the author of Barack 2.0, which describes the tools and strategies used by the Obama campaign and how they can be put to use in business. Bullock, whose degree is in mechanical engineering, has been named one of the "50 most powerful and influential men in social media."
Faye M. (Harper) Corman, AG '97, is a global product stewardship specialist for the DuPont Co., where she is responsible for following more than 200 industrial consumer products to ensure that they are safe for people and the environment. She works with teams throughout the company and worked with a pilot team for corporate regulatory social networking to get the word out about environmental stewardship. Corman, whose degree is in animal science and who is a member of the UD Marching Band Alumni Association, is active in volunteer work with the Little Rock Foundation, which offers programs for children who are visually impaired or blind.
Louis Honick, AS '98, whose degree is in computer and information sciences, is the founder, chief strategy officer and former CEO of HostMySite.com, which he created in 1997 because of dissatisfaction he experienced with the customer service provided by some other Web hosting companies. His business grew from a two-person operation to a top Web hosting firm, serving more than 60,000 customers in 130 countries and employing 200-plus professionals in Newark, Del. Honick also has served as president of Digital Delaware, a technology trade association, and is a frequent guest speaker at UD, in classes and with the student Entrepreneurship Club.
Scott Rosas, AS '93, EP '99M, '02PhD, is a senior consultant for Concept Systems Inc., a national company that provides software and consulting services for organizations to use in consensus building, decision making, planning, development and evaluation. Rosas, whose graduate degrees are in family studies, has focused his career on improving the lives of children and families. He has worked as director of the Delaware Office of Prevention and Early Intervention, as a senior scientist at the Nemours Center for Children's Health Innovation and as an associate faculty member at the Bloomberg School of Public Health at Johns Hopkins University.
William R. (Rob) Van Etten, BE '03, a finance and marketing graduate, is the president of Brighton Cromwell, a supply chain integrator for the defense industry that was named by Entrepreneur magazine as the fastest growing company in New Jersey and the 21st fastest growing nationwide. Van Etten joined the family business in 2004, became president after his father's death the next year and doubled the company's revenue within a year. He has been honored as a top entrepreneur by Inc. magazine, Ernst and Young and numerous other organizations, and is a member of the Lerner College Alumni Board.