On their best behavior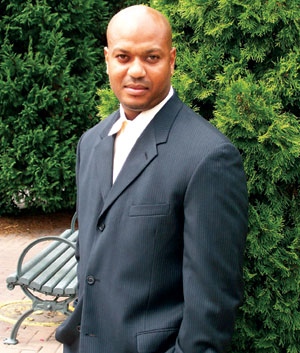 Photo by Lashawnda Becoats/Qcitymetro.com
ALUMNI | A scourge has afflicted society for far too long, and one UD alumnus has seen enough. The scourge? Increasing numbers of men across the country lacking in etiquette and any sort of fashion sense. The alumnus? Michael Jones, EP '01, whose degree is in educational studies.
While assisting as a consultant with his future wife, Tynill Jarmon, on etiquette presentations in Washington, D.C., and at universities across the country, Jones says he saw an alarming number of men who had no sense of style or proper etiquette. It was those trips, back in 2004, that started him thinking about creating a specialized educational program.
"While attending these presentations, I began to envision an etiquette presentation that was geared specifically toward men that included aspects of image and style," he says.
In August 2008, he founded the Gentleman's Institute in Charlotte, N.C., "in response to an epidemic of men and young men that were showing a lack of respect for themselves and others," Jones says. "Men were no longer aware of the damaging effects that a poor image can have on all facets of their life."
The business features several services designed to help the common man transform into a gentleman, he says: "I founded the business to include services that incorporated style, image, social etiquette, dining etiquette, professional business savvy and all things needed to become a gentleman."
One of the most popular services offered by the institute is what Jones calls the "Gentleman's Makeover." It's a process, he says, that begins with "an analysis of your current wardrobe and 'purging' of outdated, non-functional clothing [followed by] an assessment of your physical appearance with services such as a haircuts, manicures and pedicures. After which we will have a great lunch. The consultation continues with a shopping excursion to complete your wardrobe and will conclude with a 'putting it all together' exercise."
Although Jones sees a large number of men lacking in the qualities that make a gentleman, he says he does have hopes for the future, noting that, "It is my belief that men can't be held responsible for their lack of knowledge as it relates to rules and protocol of etiquette and proper social behaviors if they were never properly taught.
"It is better to know the rules of etiquette and not need them than to need them and not know them."
Article by Adam Thomas