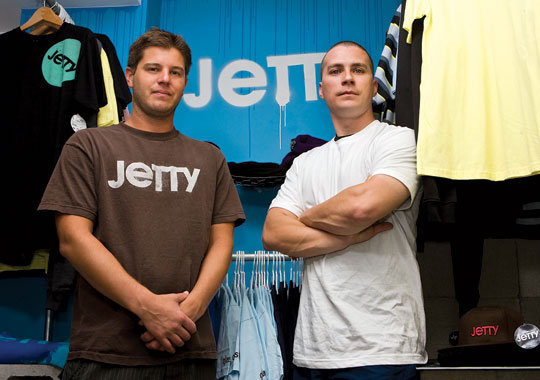 Photo by Ambre Alexander
Clothing line catches a wave
ALUMNI | Two UD alumni have turned their passion for surfing and skateboarding into a company that reflects their laid-back, fun-in-the-sun lifestyle—a clothing line known as Jetty.
Jeremy DeFilippis and Skye Gibson, both BE '01, started out as roommates in the Dickinson residence hall and, after graduation, decided to start a business together. Working with another friend, Cory Higgins, they wanted to create a clothing line that mirrored their passion for board sports.
"We first started out with five partners, but it eventually wound up being the three of us," DeFilippis says. "The idea started out with just a bunch of guys having fun and eventually grew into a business."
He says the entrepreneurs started off selling three T-shirt designs at local surf shops. After the shirts all sold out, they realized it was time to expand. They began designing new apparel and selling the products to surf shops in their hometown of Beach Haven, N.J., and in other cities.
"We started with three retailers, which quickly expanded to six, then 15, and now our products are sold in stores all along the East Coast from Boston to Florida," DeFilippis says.
The line, described by Gibson as a "lifestyle apparel company," now features both men's and women's apparel, including T-shirts, sweatshirts and hats.
John Clifford, AS '07, a graphic designer for Jetty's print and online advertising, says the sense of connection he feels when he wears a Jetty product is what makes the brand unique. "They are a real brand, with local roots," he says. "You are really a part of something that extends beyond a logo on a T-shirt."
Clifford, who once served as graphics editor for UD's student newspaper The Review, says he first heard about Jetty when he began seeing the T-shirts in local surf shops in Long Beach Island, N.J., where he grew up surfing. The company's aim to involve local communities through events emphasizes Jetty's focus on its core audience, Clifford says.
"Instead of following the traditional structure of the bigger surf and skate apparel brands, Jetty has focused on selling their products personally and getting to know the shops and people they sell to," he says.
DeFilippis and Gibson say they would love to see their line expand beyond the East Coast.
"We want to see Jetty on people who get what we're saying," Gibson says. "It's about going out there, being creative and doing what you're passionate about."
Article by Lindsey Spina, AS '10
This article was reprinted with permission from The Review.