Together in grief and service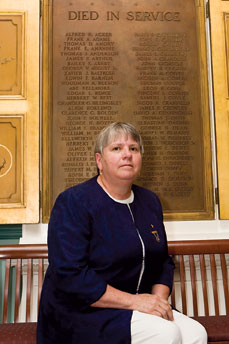 Photo by Ambre Alexander
ALUMNI | Ruth Voshell Stonesifer, EP '69, never wanted to qualify for membership in the national organization she now heads.
American Gold Star Mothers Inc., a group for women who have lost sons and daughters in the service of their country, is a "wonderful organization none of us ever wanted to become eligible to join but we are grateful to have," she wrote in a message to members after becoming the group's president in July.
"After the initial grieving period, you learn to turn an unbearable negative into a powerful positive," she says.
Stonesifer lost her son, Kris, a U.S. Army Ranger, shortly after the 9/11 terrorist attacks, on Oct. 19, 2001, in a helicopter rescue mission in Afghanistan. The Rangers sent one of their own to be with her when she was told of his death, and she has stayed in touch with the Rangers, who invite her to their Change of Command ceremony every two years at Fort Benning, Ga.
"I am grateful for the amazing support from the extended Ranger community that started when the very first Ranger stood in my Pennsylvania doorway some eight years ago and simply said the only words that could have consoled me: 'Ma'am, I knew your son,'" Stonesifer says. Over the years, she has gotten to know the young men from Kris's company and says she now considers them all her sons.
American Gold Star Mothers started after World War I when Grace Seibold, whose son was missing in action and later declared dead, volunteered at Walter Reed Hospital to help wounded servicemen. There, she found others like herself, and the organization was launched. Today, being president of the 2,000-member organization is a full-time job, but Stonesifer says she has the support of her family and "significant other," Harvey Davis, who created and maintains the group's Web site.
"Service is still our goal," Stonesifer says. "Our members help support each other and new Gold Star members, volunteer to help veterans, support legislation to help servicemen and their families and sponsor events to honor those who have died in the service of their country."
Stonesifer, a home economics major at UD, was a teacher who then married and raised her two children. Attending the University was a family tradition, she says. Her brothers John and Frank Voshell attended, and her mother, Ruth Voshell, was a 1936 graduate. Kris also went to UD for two years before transferring to the University of Montana.
Stonesifer likes to sew and began working for a quilting store after Kris's death. She and other volunteers go to the store on Sundays, when it's closed, to make Quilts of Valor featuring a patriotic motif. They have presented 500 of the quilts to wounded veterans.
Because of privacy laws, Gold Star Mothers cannot get information from the government on the families of fallen service members and rely on news reports, obituaries and other sources. They attend ceremonies honoring the fallen, wearing the organization's signature white.
One memorable occasion was last Memorial Day, Stonesifer says, when she and other Gold Star Mothers were invited to breakfast with President Obama. Being active in the organization has given Stonesifer her calling, she says, and she encourages other members to find themselves by helping others.
For more about Gold Star Mothers, visit www.goldstarmoms.com.
Article by Sue Moncure