Fulbright Fellow addresses world education conference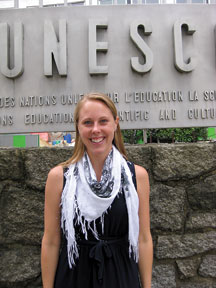 ALUMNI | Emily Helmeid, AS '07 and a graduate of the University Honors Program, a Fulbright Fellow to the United Nations Educational, Scientific and Cultural Organization (UNESCO), spoke at the organization's World Conference on Higher Education in Paris in July.
Helmeid, who was a Fulbright teaching assistant in Brazil in 2008, addressed an audience of education ministers, policymakers, university leaders, researchers and other key stakeholders in higher education. Her speech, delivered during the "Voices of the Future" portion of the conference's closing ceremony, was part of a panel about increasing access to higher education.
"Education has given us a voice, and we mean to use it," Helmeid said about her generation of college graduates. "It has empowered us so that we now have as much responsibility to work toward the common interests and overarching goals of our global community as you do."
She also referred to her experiences as a teacher at elementary schools in Brazil, Mexico and the United States. "I have witnessed the incredible impact education has upon the future of its students, beginning at the earliest levels," she said. "The expectations of my students, most of them from lower-income families, directly mirrored the expectations of their teachers, their parents and their society."
Helmeid, whose address at the conference was featured on the State Department's Fulbright Web site, expects to continue working with UNESCO in Paris for the rest of the year. She graduated from UD with an honors degree in international relations, Latin American studies and three languages.