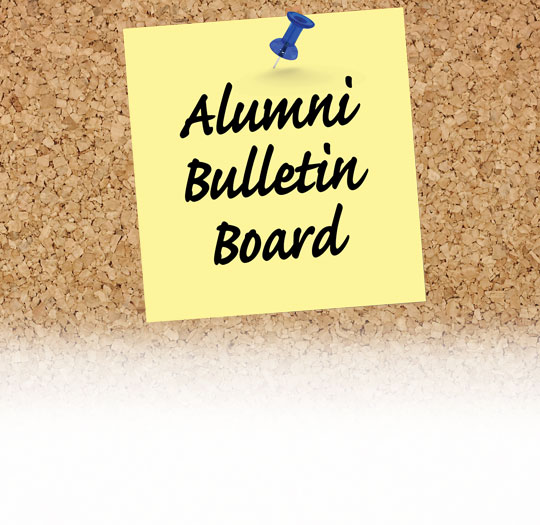 Plan now for Reunion Weekend fun
Forum & Reunion Weekend 2010 will be held June 4-6, so save the date now. Planning for the big event is already in full swing, and volunteers—particularly from the fifth, 10th, 25th and 50th reunion classes of 2005, 2000, 1985 and 1960—are needed.
The Office of Alumni Relations encourages everyone from a reunion year to get involved and make your class reunion a highlight of the weekend. Volunteer committees will work on all aspects of reunion preparation: getting in touch with classmates, planning a class party and class gift fundraising.
Reunions provide an excellent opportunity to come together with classmates and friends, expand your professional network and get the most up-to-date news on UD. For more information, visit www.UDconnection.com/reunions and select your class year.
Not your reunion year in 2010? Don't worry because Forum & Reunion Weekend is open to all Blue Hens. If you're interested in planning a reunion for a student organization, athletic team, major or other group, contact Tricia Fitzgerald at tfitz@udel.edu or call (302) 831-2341. Don't forget that UD is always looking for volunteers; visit www.UDconnection.com/get-involved to see the numerous opportunities available.
And, to stay up-to-date with all the programming and registration details for Reunion Weekend, visit www.UDconnection.com/ReunionWeekend and sign up to receive exclusive e-mails. You'll be the first to hear about special registration offers and prizes as well as the latest program information.
Save the date for these upcoming regional alumni club events
Regional alumni clubs are planning a variety of events, and all alumni are welcome. As part of the University's sustainability efforts, only e-mail invitations will be sent, so make sure to register for the alumni online community, UDconnection.com, and update your personal profile. If the contact information in your profile is correct, you will be on the mailing list for club events in your area. Registration is free and is exclusively for UD alumni. Below are a few events to put on your calendar; more will be added, so visit www.UDconnection.com/events for updates.
Dec. 10, 2009
Kent & Sussex Counties
Alumni Club
Holiday reception
Sunnybrae Mansion, Milford
Jan. 13, 2010
Boston Alumni Club
pregame party
UD men's basketball at Northeastern
Jan. 23, 2010
Baltimore Alumni Club
Ice skating,
Patterson Park Ice Rink
Feb. 26, 2010
New Castle County Alumni Club
Young alumni party


The new Young Alumni Program caters to graduates of the past 10 years. Check it out at www.UDconnection.com/youngalumni
Join the UD License Plate Hunt
Official UD specialty license plates are available in Delaware, Maryland, New Jersey and Pennsylvania. The one-time cost of $75 per plate is used to cover the state registration fee and support Alumni Association scholarships and programs.

The state of Delaware allows you to select up to four numbers with no leading zeros or letters permitted. To see the available numbers, e-mail UD-Plate@udel.edu or call (302) 831-2341. Other states assign numbers sequentially.

For information on the program and to apply for Delaware and Pennsylvania tags, visit www.UDconnection.com/licenseplates. Applications for UD plates from Maryland and New Jersey must be requested through Alumni Relations; send your request and mailing address to UD-Plate@udel.edu.

If you already have a UD specialty license plate, you can win a prize in the UD License Plate Hunt. Send a photo of yourself with your license plate to alumnet@udel.edu with your name and address. We'll post your photo to the online album at www.Flickr.com/UDalumni, and you'll receive a prize from Alumni Relations.

If you have a UD-themed vanity plate, e-mail a photo of it to alumnet@udel.edu and you'll get a prize, too.
Nominations open for awards
Know of a deserving person who should be considered for University of Delaware recognition? Please submit your suggestion along with any pertinent information about the person's UD-related experiences and achievements as well as any professional successes. Visit www.UDconnection.com/awards for more information and nomination forms.

Annual awards include the Alumni Wall of Fame, which recognizes outstanding professional and public service achievements by UD graduates; the UD Alumni Association's Emalea Pusey Warner and Alexander J. Taylor Sr. Awards, which honor an outstanding woman and man, respectively, in the senior class; and the Milton L. Draper Award, providing one or two scholarships each year to a sophomore or junior who exhibits outstanding performance in fostering student-alumni interaction. Deadline for the student nominations is Feb. 15.

Now is also the time to volunteer or nominate someone for a term on the Alumni Association's Board of Directors, which meets quarterly on campus. Three men and three women will be selected to begin serving three-year terms on the board on July 1; nominations are due by Jan. 15. Visit www.UDconnection.com/UDAA for more information and a nomination form.
Southern Delaware club cleans up
Members and friends of the Kent and Sussex Counties (Del.) Alumni Club did their bit for the environment during the state's Delaware Coastal Clean-up event in Dewey Beach in September. The same club co-sponsored UD Day at Dewey Beach in July that attracted more than 300 partygoers. Numerous other regional alumni clubs held summer and fall events, from baseball games to happy hours to receptions that welcomed incoming freshmen to the greater UD community. To join a club or attend an event in your area, visit www.UDconnection.com/clubs for information.
Many ways to keep up with alumni
To keep informed about the University and up to date with all the activities, events and services available through the Office of Alumni Relations, Blue Hens have a wealth of options.

Follow Alumni Relations on the Web site www.UDconnection.com or the blog www.UDconnection.com/blog, through Facebook.com/UDalumni, Flickr.com/UDalumni or Twitter.com/UDalumni. To network with other alumni, try www.UDconnection.com/Linkedin.
Now, there's no excuse for losing touch.