Health teacher rated first-class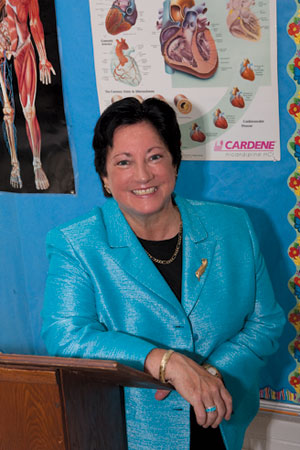 Photo by Ambre Alexander
ALUMNI | For Bonnie Lane, teaching health to teenagers at Delcastle Vocational High School in northern Delaware is more than a job. It's a mission, and she is constantly seeking and creating new ways to get the "good health is important" message across in innovative ways.
Lane, who received her master's degree in exercise physiology from UD in 1997, has been named Health Education Professional of the Year by the American Association for Health Education. It's the top honor in her field, capping the many state and other honors she has received, including a tribute from the Delaware Senate.
"I was thrilled when I was named Eastern Region Health Education Professional last year, and this was even more exciting," Lane says. Her influence in health education is widespread, and she has been invited to make presentations in 30 states—another indication of her impact in the field.
"What kids learn in my class are skills and information they can use their entire lives," she says. "I focus not only on physical health, but also on mental, emotional and social health. I used to teach concepts and facts but have moved to a more interactive and skill-based curriculum. I am interested in the big picture of making health education relevant to my students."
Her job is a challenge, as she teaches five consecutive classes of more than 30 freshmen each day, and then, after a break, consults with seniors who are working on muscle development and strength building.
Since all freshmen of varying abilities and talents must take health class, Lane offers her students different ways to communicate what they have learned other than by taking quizzes, from drawing pictures or comic strips to creating music and songs. Students team up in groups to do role-playing, write scripts, prepare PowerPoint presentations, make videos and critique one another's work.
Lane's approach is to make her students active learners with a constant dialogue between her and the teens and an emphasis on real-life concerns from addiction to nutrition.
For example, one part of the curriculum focuses on so-called "refusal skills," including how to say no to drugs, sex, shoplifting or letting someone else drive your parents' car. The students draw from their own experiences and lives to create situations, write scripts and present them to the class.
Another area of the curriculum examines relationships, exploring what makes up a good relationship or an unhealthy, controlling or abusive relationship. Teams of two or three students act out the concepts to their classmates.
Lane is available to assist students with problems by referring them to organizations that can help them. "We are against self-diagnosis in my classes. If students have health or other problems, I can tell them where to get help, how to get there, right down to the number of the bus they should take," she says.
In nominating Lane for the award, Michelle Provost-Craig, associate professor of health, nutrition and exercise sciences at UD and Lane's adviser, wrote, "She is truly a champion for her students," adding that whenever she is out in public with Lane, former students are constantly coming up to speak to her.
Lane has been on the job for 30 years, teaching at Howard High School of Technology before going to Delcastle, and estimates she has touched the lives of more than 11,000 students during her teaching career.
"As well as being a teacher, I love learning, and getting my master's degree at Delaware provided a great opportunity to learn and do research," says Lane, whose thesis topic was HIV-positive females and resting energy expenditure. "The more I learn, the more I appreciate the miracle and intelligence of the human body."
Article by Sue Moncure