Restauateur serves up success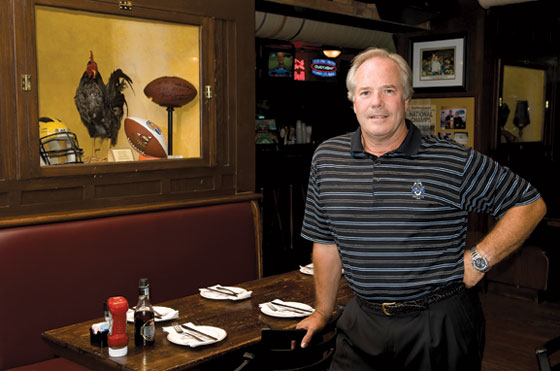 Kathy F. Atkinson
ALUMNI | Bob Ashby had it figured out. He would play sports at the University of Delaware, get his degree in business administration and return home to North Jersey to work for his dad, a plant manager.
That was before a football injury changed his life.
Today, Ashby, BE '77, is a successful entrepreneur who owns the tavern—an off-campus landmark—where he met his wife while both were UD students, as well as three other Delaware restaurants.
It was sports that brought Ashby to Delaware from his Clifton, N.J., high school, where he had starred in football, wrestling and gymnastics.
"At first, I didn't think I was big enough for college ball," Ashby says of his first days at the University. "Then [Coach] Tubby Raymond walked in, and he was two inches shorter than me." But a knee injury during spring football soon ended his athletic career.
"I thought it was the end of the world," Ashby says, until he resolved to use the experience to refocus. "I decided to get serious about school. I was majoring in management and started thinking about owning my own business."
He met his future wife, Sandra Keene Ashby, EP '77, at the Deer Park Tavern. "I walked her home that night, and we started dating," he says. Bob and Sandy recently celebrated their 30th anniversary.
After graduation, Ashby worked for Winston's restaurant, which he describes as having a good business model and good managers who helped him learn. In 1983, he was asked to look for a location for a new restaurant, and he suggested a site that the Winston's owners eventually decided was too small for their needs.
"I told the Realtor they weren't interested but I was," Ashby says. He took over the property, naming it McGlynns Pub, and flung himself into the restaurant business.
One thing he says he hadn't realized until then was that the same attitudes that defined his athletic career carried over to his business. "I've always been a risk taker," he says. "I don't know any other way."
Today, Ashby owns three McGlynns locations, as well as the Deer Park. With fond memories from his University days, he says he pounced on the opportunity several years ago to buy and extensively remodel the 250-year-old tavern, which is steeped in folklore.
The key to a successful restaurant is "the returning customer," says Ashby, who in 2005 was named Delaware's best restaurateur by Delaware Today magazine. "The customer is the only reason we're here. The customer is never the problem. They are never a distraction."
Other honors have included the 2007 lifetime-achievement Cornerstone Award from the Delaware Restaurant Association and the UD Department of Hotel, Restaurant and Institutional Management's Renaissance Award.
Article by Jack Hoban, AS '78