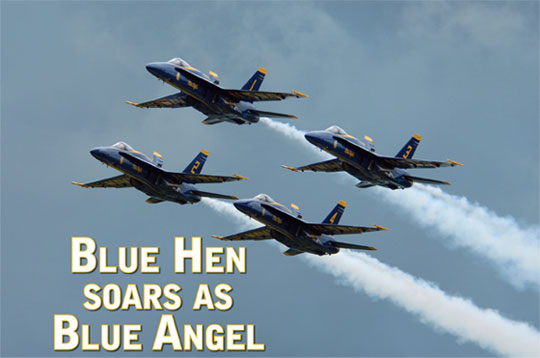 U.S. Navy Photos
ALUMNI | Rolling upside down in a screaming blue and gold F-18 fighter jet at 400 mph just 200 feet above a crowd of sun-drenched spectators might seem like a tough way to earn a living, but Lt. Mark Swinger wouldn't have it any other way.
For Swinger, AS '00, a U.S. Navy pilot, maneuvering one of the world's top combat aircraft comes with his official job title as "Blue Angel No. 4" in the Navy's elite Blue Angels Flight Demonstration Squadron. Flying the No. 4, or slot, position in the Blue Angels' diamond formation also means that the former political science and international relations major serves as the team's safety officer.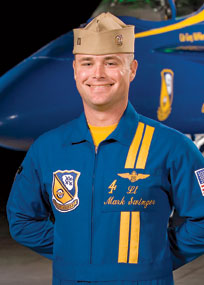 While the F-18 can hit speeds approaching 1,200 mph with a climb rate of 30,000 feet per minute, Swinger and his Blue Angels teammates perform a series of gravity-defying maneuvers at altitudes ranging from 1,000-15,000 feet at speeds from 100-700 mph during air show demonstrations nationwide. Their feats rely on precise radio communication between the pilots.
"Blue Angel No. 1, the flight leader, tells me what maneuver he is doing, saying 'I'm turning upside down,'" says Swinger, whose slot position also reflects his status as a second-year demonstration pilot with the squadron. "This kind of communication permits us to fly next to each other at those speeds."
Performing about 70 shows in 35 cities, the air show season for the Blue Angels takes off in mid-March, with an annual demonstration at the Naval Air Facility El Centro, in the California desert near the Mexican border.
"Depending on overcast conditions, the shows last about 45 minutes," Swinger says. "If we have at least a 1,000-feet ceiling we can do a half-hour show, but it does take out the overhead loops we might perform at higher altitudes. If the ceiling is less than this, we can't fly because of safety concerns."
Being a Blue Angel also means flying six days a week—twice, sometimes three times, each day—with each training session lasting for about an hour, Swinger says.
From the graceful aerobatic maneuvers of the four-plane diamond formation to the fast-paced, high-performance maneuvers of its two solo pilots, the team performs at the pinnacle of precision flying, often locked as a unit in the six-jet delta formation.
"We start training in late November, when the regular air show season is over. During the regular season, we continue to train, and we gradually fly closer and closer together during shows," Swinger says. "As Blue Angel pilots, we can't use a flight simulator to train for the kind of flying we do, so that means we have to spend a lot more time in the air."
If there is such a thing as a typical week for the Blue Angels, it usually starts with the pilots firing up their planes and heading toward the location of the next scheduled air show.
"Once the planes are landed and checked in, we make ourselves available for interviews with the local media," Swinger says. "Then, we start doing checkpoint flights, going over all the things we will do in the upcoming show. We might also get the chance to do some solo flying if weather permits."
Performances are taped and then replayed during debriefing sessions, where pilots discuss any changes that might be in order. Setting up in a new location also means carrying the message about what the Blue Angels do to students at local high schools and visiting hospitalized and seriously ill children.
"During these talks in the high schools, I relate what I do in the Navy and how much I love doing it," Swinger says. "I just tell them that I was a very average student, and yet I ended up doing what I do now—that something like this is possible for anyone willing to make the commitment."
Although his father was a commander of a Navy surface vessel, Swinger says he did not initially consider a career in the military but instead came to UD thinking about a future as a sportscaster or a lawyer. More than that, he says, he wanted to play golf, eventually becoming a three-time letter-winner on the Blue Hen team.
His introduction to the world of fighter pilots began the summer before his senior year at UD, when he paid a visit to Naval Air Station Oceana, in Virginia Beach, Va., the Navy's biggest jet base on the East Coast, and was hooked. After introductory flight training at Pensacola, Fla., he completed primary training at Naval Air Station Corpus Christi, Texas, where he also completed strike jet advanced training.
"When you get done with your primary training, you get to list your preferences, what kind of plane you would like to fly for the Navy," Swinger says. "The choice is between jets, helicopters and land-based propeller planes, and it really depends on what the Navy needs at the time. I was lucky enough to land a jet."
Student naval aviators who enter the strike-jet pipeline must complete strike training, including strike tactics, weapons delivery, air combat maneuvering and landing on an aircraft carrier.
"When you land on a carrier, you go from 140 mph to zero in a couple hundred feet," Swinger says. "When I came in for my first carrier landing, it felt like a controlled crash, but nothing bad happened and I did all right." To the crew on the flight deck, however, what was a milestone to Swinger was just a routine part of the job, he says: "They just told me to get out of the way because another jet was on the way in."
Following carrier certification, pilots get their wings and are deployed to their next assignment. Swinger, who joined the Blue Angels in September 2007, says one of the highlights of the assignment is the camaraderie that develops between the pilots and the team members who do a great job of keeping the planes in top condition.
"The fact that we fly some of the older planes that the Navy has says a lot about our crew," he says. "The best thing about this job is the people I work with. The flying is great, but it's really about the people."
And that especially includes the people of all ages who come to see the shows and support the members of the U.S. armed forces around the world.
"The greatest thing is going around the country and talking to people about what we do. The support they give us is terrific," Swinger says. "When people cheer for us, they are really cheering for the folks who are deployed."
Article by Jerry Rhodes, AS '04