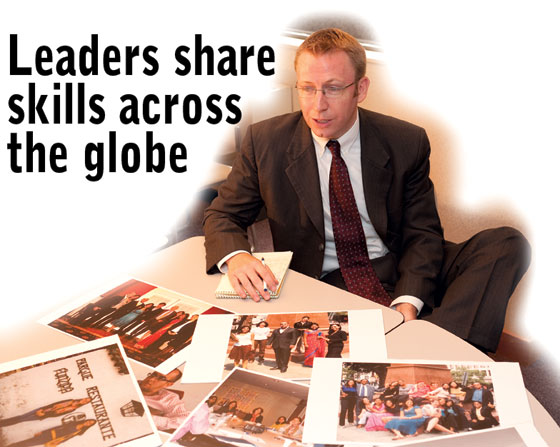 Photos by Kathy F. Atkinson
ALUMNI | Scott Beale was working for the U.S. State Department in India when he saw firsthand that many American companies were making use of the skilled workers in that country by outsourcing jobs there. He wondered: Why aren't nonprofits doing something similar?
Now, thanks to his efforts as what The Washington Post recently called a successful "nonprofit entrepreneur," there's an organization doing just that. In 2006, Beale, EP '08M, founded Atlas Service Corps, a rapidly expanding enterprise based in Washington, D.C., that brings highly skilled professionals to the United States for a year to assist nonprofits here.
The "fellows" are matched with an agency that needs their particular talents and are paid a stipend to cover their living expenses. Most of the cost is paid by the host agency, a system that keeps Atlas' expenses and need for fundraising relatively low, and both the fellows and the nonprofits learn and benefit from sharing expertise, Beale says.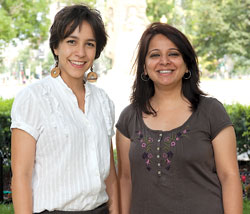 Photos by Kathy F. Atkinson
"We have this notion that a nonprofit professional from the United States can go abroad and help solve the world's problems but that the reverse can't happen," says Beale, who completed his master's degree in public administration at UD after returning from stints living and working abroad with his wife, a Foreign Services officer. "The private sector has given up that attitude—that professionals from other countries don't have skills to offer the U.S.—and nonprofits should, too."
He founded Atlas while living in Colombia and envisioned it as a kind of "reverse Peace Corps," although he says he stopped using that term when someone misunderstood the shorthand description of the organization and asked him why Atlas was opposed to peace. Now he classifies it as an international exchange and management development program for nonprofits.
In its first year, Atlas brought a group of six fellows from India and Colombia to the U.S. to work for agencies that address issues including health, poverty and hunger. Its current class, which arrived in September, consists of 13 fellows from eight countries, who were selected from 550 applicants.
"We're growing so quickly now that we're going to start having two classes a year," Beale says. "Most will stay for a year, but some will stay for 18 months. Our fellows come from government, from U.N. agencies, from large nonprofits and from small, grass-roots agencies. What we're looking for is smart, rising leaders who are committed to public service."
In addition to the majority of fellows, who come to the United States from other countries, a small number of Americans are sent to Colombia as fellows to work for agencies there. When Beale began Atlas, he focused on Colombia and India not only because he had lived and worked in both nations and so had contacts there but also because both have strong and active nonprofit sectors, he says. Classes so far have been highly diverse in terms of nationality, religion and race, although most fellows have been women, he says.
Atlas sets minimum requirements for applicants of a college degree, three years of work experience and English fluency. A committee selects about 50 finalists and then sends two or three to a potential host agency, which makes the final selection on who best meets its needs. Sometimes, two candidates seem to be such a good fit that an agency decides to hire both, a situation Beale considers clearly a win for all involved.
"We're not talking about 18-year-olds who want to change the world right out of high school," he says. "Instead, we bring our host agencies [typically] 29-year-olds with education, experience and skills."
The fellows leave their jobs behind, of course, but Beale says it's not unlike working professionals who choose to take a break from their careers to attend graduate school and further develop their skills and expand their future opportunities. The Atlas system works, he says, because the fellows are learning U.S. nonprofit management methods while contributing to their host agencies.
For Meher Rehman, an Atlas fellow from India whose work in the U.S. has been so valuable to her host agency that she was asked to extend her time for another six months, the experience has been "enriching and eye-opening," she says. "It's been a significant learning experience for me," Rehman says. "Here, I'm working more on international policy issues, so it's a very different perspective I'm getting. This fellowship has meant a lot of personal growth for me."
At home in India, she says, she saw Americans as impersonal donors to charities and agencies. Now, she sees them as not just potential sources of contributions but as "people who really care about these issues, too."
Laura Lozada, a fellow who returned home to Colombia when the previous class ended in August, says she had a similarly educational experience through Atlas. In Colombia, she worked with an agency serving at-risk children, and she brought that experience to CentroNía, her host agency, which works with low-income, Latino families in the U.S.
"I was in the United States while the economy was very bad, and that showed me that nonprofits face the same challenges everywhere and that they have to come up with creative solutions," Lozada says. "I think what I learned—the kinds of strategies that nonprofits in the U.S. use to meet challenges—are things I can adapt and apply at home."
With such successful fellows and the organization's business model that keeps expenses low, Beale says he sees almost unlimited potential. He's received donations from DuPont and other corporations and from private and governmental sources, but 70 percent of Atlas' operating costs are paid by agencies hosting the fellows, he says.
Atlas has received praise from such sources as the Brookings Institution, which cited it for best practices, and former U.S. Sen. Harris Wofford, a founder of the Peace Corps who regularly speaks to meetings of new fellows.
Beale says he sees no reason that Atlas can't place 100 fellows in agencies someday, and he can even envision the number reaching the thousands. Both U.S. nonprofits and overseas professionals want to share expertise, he says, but the problems of financing and visa restrictions mean that an intermediary such as Atlas is needed to facilitate exchange programs.
He also agrees with The Washington Post's description of him as primarily an entrepreneur.
"I use the same kinds of skills and face the same challenges as a business entrepreneur," Beale says. "It's just that the profit I'm making is social, not financial."
Article by Ann Manser, AS '73