Outstanding seniors earn applause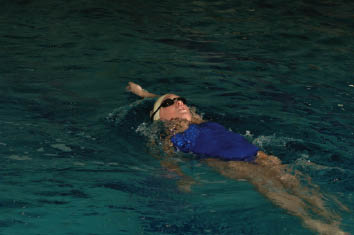 Photo by Kathy F. Atkinson
SPORTS | One of the top backstroke specialists in UD women's swimming history and a football standout who went from a walk-on to a two-time All-American during his Blue Hen career were named the University's outstanding senior athletes of the year in May.
Maryann Walker, a four-year standout in swimming, and Kheon Hendricks, one of the top centers in the history of UD football, were recognized for their accomplishments on the playing field and in the classroom and community. Each was selected by a vote of UD's head coaches.
Walker, an honor student who majored in accounting, is the fifth member of the UD swimming and diving team to earn the Outstanding Senior Female Athlete award and the first since Sara Peffer in 2004. She led the team to a four-year dual meet mark of 43-12 under Head Coach John Hayman, including four straight winning seasons and a school record 13 wins in 2006-07. The Hens finished sixth or higher at the CAA championships all four years.
Walker also set school records in the 200 freestyle relay, 400 freestyle relay, 400 medley relay and 800 freestyle relay and was a team captain.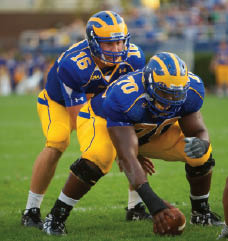 Photo by Mark Campbell
Hendricks, who earned his bachelor's degree in biology in 2008 and now is in graduate school studying sociology, is the 40th football player to earn the Outstanding Senior Male Athlete award but the first offensive lineman since Dan Morgan in 1973.
Hendricks started his UD football career as an offensive guard before moving to center for Head Coach K.C. Keeler. He led the Hens to 26 wins over four seasons, highlighted by the team's 2007 success in advancing to the NCAA Division I Football Championship Subdivision national title game. He also served as a team co-captain during the 2008 season.
For all your UD Athletics news visit www.bluehens.com