New director to lead athletics, recreation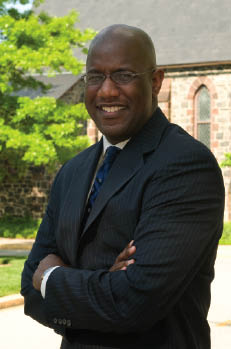 Photo by Kathy F. Atkinson
SPORTS | Bernard Muir is the University's new director of athletics and recreation services, following the retirement of Edgar Johnson, HS '67, EP '70M, after a 25-year tenure.
Muir, a former college athlete, had been director of athletics at Georgetown University of the Big East Conference since 2005 before accepting the offer to join UD. He previously served in the athletics administration at the University of Notre Dame and with the National Collegiate Athletic Association (NCAA).
UD President Patrick Harker says Muir was selected after a national search for a leader "who has the vision, experience and character to help us reach a new level of excellence in athletic competition and academic success."
Muir, he says, "continues a proud legacy as only the fourth person to hold this position at Delaware since 1940. He comes to the University of Delaware with more than 20 years of athletic administration experience at some of the leading universities in this country."
Harker cited Muir's expertise and success in such areas as external cultivation and fundraising, fiscal and budget management, strategic planning, university relations, NCAA compliance, sport management, facilities management and event management.
Muir says he was attracted to UD after learning more about its leadership, direction and progressiveness.
"Dr. Harker, the University and I all agree that the mission and vision of any university should be student-centered, while developing global citizens who will be lifelong learners and leaders in our society," he says. "In addition, Blue Hen athletics is a tremendous source of pride and passion for the people of Delaware. I look forward to working with the entire University of Delaware community to create the ideal environment for our student-athletes to succeed both academically and athletically."
Colonial Athletic Association Commissioner Tom Yeager calls Muir's hiring "a real coup for Delaware" and says he has "impeccable credentials, energy and vision for the future to build on the outstanding foundation of Delaware's athletic programs."
Mike Brey, men's basketball coach at UD from 1995-2000 and now head coach at Notre Dame, says, "I worked closely with him when he was here at Notre Dame, and it's a grand slam for the school to have Bernard and his family come into the state of Delaware."
Muir has a bachelor's degree in organizational behavior and management from Brown University and a master's in sports administration from Ohio University. At Brown, he was a four-year letter winner and co-captain of the basketball team.
Endowment honors Edgar Johnson
The Edgar N. Johnson Jr. endowment has been created to benefit a male or female student athlete who embraces the characteristics of leadership, sportsmanship, ethics and moral principles. Donations may be sent to: UD Athletic Fund, Bob Carpenter Center, Room 137, Newark, Del. 19716
Johnson announced his plans to retire in late March, saying, "It has been an honor to serve at my alma mater for the last 25 years. Every athletic director and coach wants to win more, but I'm very proud of the success that we have had here, not only on the playing fields but in the classroom."
Harker praised Johnson's "unwavering passion, dedication and support for UD," which he said "has had a positive influence on the countless number of individuals who have participated in or were spectators of varsity sports, intramural teams, clubs and recreational programs."
For all your UD Athletics news visit www.bluehens.com