Rush is on for tickets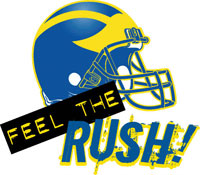 SPORTS | In just a couple of months, it will be time to "Feel the Rush!" as the UD football team takes on six opponents—including in-state rival Delaware State University and defending national champion University of Richmond—at home at Tubby Raymond Field in Delaware Stadium.
Season and single ticket prices, as well as game times, have been announced for the 2009 home football season, which opens Sept. 4 against West Chester.
Six-game season ticket packages are available for $156 for middle Sections D and K, $132 for grandstands and $200 for a Family Four Pack in the north end zone.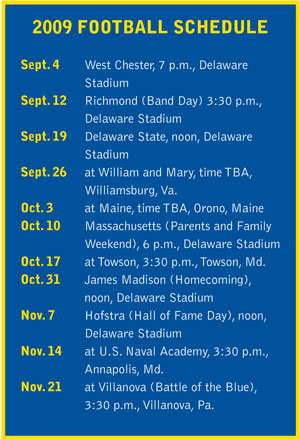 Season parking prices remain the same at $325 for VIP parking and $150 for all season non-bumper parking. Visit the UD athletics Web site, www.bluehens.com, or call (302) 831-2257, for season ticket information and purchases.
Single game tickets for all games other than the Delaware State contest will be $26 for middle Sections D and K, $23 for grandstands, $18 for north end zone and $10 for children 17 and younger in the north end zone.
General single game parking prices remain at $15 per game.
Single game tickets for the historic first-ever regular season meeting between Delaware and Delaware State will feature premium prices this year, with all tickets sold for $30. There is a limit of six tickets per person.
Single game tickets can be purchased through Ticketmaster, www.ticketmaster.com, or by calling (302) 984-2000.
For all your UD Athletics news visit www.bluehens.com