Hens looking forward to first kickoff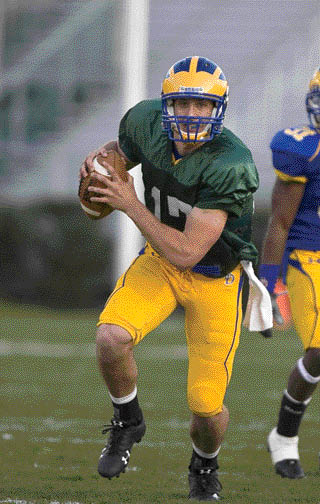 Photo by Mark Campbell
SPORTS | The UD football team looks to return to winning ways this season after a disappointing 2008 that saw the offense-challenged Blue Hens post an uncharacteristic 4-8 record.
Head Coach K.C. Keeler, entering his eighth season at the helm, will pin his hopes on a proven defense and what he hopes will be a much-improved offensive unit. A total of 24 players with starting experience return, including 13 on the defensive side of the ball, as the Hens once again meet the challenges of the Colonial Athletic Association, the premier conference in NCAA Division I Football Championship Subdivision.
Delaware struggled at quarterback, never found a consistent running threat and lacked an effective offensive line in 2008 as the Hens finished last in the CAA in scoring and total offense. UD scored just 17.5 points per game, its worst average since 1960, and recorded just 275.8 yards of offense per game, its worst average since 1961.
The Hens hope that junior quarterback Pat Devlin, a first-year transfer from Penn State, will resurrect the offense. Devlin, one of the nation's most highly coveted recruits coming out of Downingtown (Pa.) High School, was the backup for two seasons with the Nittany Lions and even led them to a win over Ohio State last fall.
He transferred to Delaware in search of more playing time, following in the footsteps of previous Hen quarterbacks Andy Hall (Georgia Tech) and Joe Flacco (Pittsburgh).
Keeler says he's also excited about the addition of Jim Hofher, a former head coach at Cornell University and the University of Buffalo, who has joined the staff as offensive coordinator.
Delaware returns its top receiver in senior wide receiver Mark Duncan, who has 137 career receptions to his credit.
Senior tight end Josh Baker, who caught 20 passes for 344 yards and two touchdowns in 2007, returns after sitting out the 2008 campaign. Junior Philip Thaxton (181 yards) and senior Jerry Butler (162 yards) are the top running backs.
Several linemen return, led by senior tackle Corey Nicholson, a third-year starter, and sophomore Rob McDowell, who moves over from guard to center to replace Kheon Hendricks, who has graduated.
The strength of the Hens certainly lies in defense. Delaware ranked among the top units in the CAA a year ago, allowing just 20.7 points and 332.2 yards per game.
Senior Matt Marcorelle (15 sacks and 30 tackles for loss in his career), an All-American at defensive end in 2007 and a two-time All-CAA pick, is expected to move to middle linebacker and add strength to a unit that already includes sophomore Andrew Harrison and a pair of juniors in Benard Makumbi and Brian Void, who are looking to rebound from injury-plagued seasons.
The Delaware secondary will be one of the nation's best, led by All-American senior free safety Charles Graves, who had 78 tackles and five interceptions, and junior cornerbacks Anthony Walters and Tyrone Grant. Senior Anthony Bratton, a starter who missed all but one game last year with an injury, also returns.
Even with the move of Marcorelle, the Blue Hens will be solid up front, with a contingent led by a group of veterans in senior end John Higginson, senior tackle Brandon Gilbeaux and junior tackles Demitrius Hester and Siddiq Haynes.
Although four-year punter Stuart Kenworthy has moved on, the Hens should remain solid on special teams led by senior placekicker Jon Striefsky, a 2007 first team All-American, and Butler, who averaged 29.6 yards per kickoff return.
For all your UD Athletics news visit www.bluehens.com