Women's basketball boasts talented roster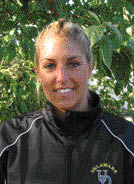 Photo by Cindy Gregory
SPORTS | Women's basketball fans will have another reason to cheer next season with the addition of 2008 national high school player of the year Elena DelleDonne to the Blue Hens' roster, which is returning its top 10 scorers from last year's 15-15 campaign.
She will join a young and talented team that made outstanding improvements throughout the 2008-09 season, despite having just one senior and two juniors on the squad.
Women's basketball head coach Tina Martin announced in early June that DelleDonne, who enrolled at the University as a freshman elementary education major last year and played varsity volleyball during the 2008 season, has joined the basketball program.
For Delawareans, DelleDonne already is a household name. The 6-foot-5 forward starred for five seasons, beginning in eighth grade, at Ursuline Academy in Wilmington, Del., where she enjoyed one of the finest careers of any athlete in state high school history. She will have freshman eligibility with the Blue Hens next season.
"We are thrilled that Elena will be playing basketball at the University of Delaware," said Martin, who has led the Blue Hens to seven 20-win seasons, two NCAA Tournament appearances and four Women's National Invitation Tournament berths in her 13-year tenure. "Elena is versatile and has the ability to play multiple positions. She will have an immediate impact on our program with the skills, competitiveness and athleticism she brings to the team."
Top scorers returning to the lineup from last season are led by third team All-CAA guard Tesia Harris (13.6 points per game) and guard Vanessa Kabongo (10.6), as well as rebounding leader Arienne Jenkins (8.1 rebounds per game).
Delaware will open the 2009-10 season with seven straight non-league road games beginning Nov. 17 at St. Francis (Pa.). The Hens will open the home season Dec. 11 vs. Navy at the Bob Carpenter Center.
For all your UD Athletics news visit www.bluehens.com