Wildlife biologists track black ducks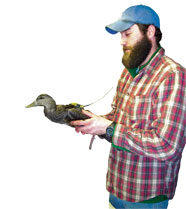 RESEARCH | The decline in population of American black ducks has been a topic of great debate among wildlife researchers and managers. Once the most abundant ducks in eastern North America, black ducks have recently declined to as few as 188,000 on traditional wintering grounds.
UD graduate student Kurt Anderson—a self-proclaimed "quack addict" and biologist with Ducks Unlimited (DU) in Delaware and New Jersey—is working with wildlife biologists at DU and several federal and state fish and wildlife agencies to find out why.
"We know a little bit about the fall migration of black ducks thanks to banding efforts and harvest data, but we know even less about the timing of spring migration, their migration routes and habitat use patterns on stopovers," Anderson says. Biologists are unclear how migration proceeds among ducks from different wintering areas.
"Conditions encountered during spring migration have a lot of influence on the reproductive success of birds," Anderson says. "Ducks must acquire sufficient resources [weight] both before and during spring migration to make it to their breeding grounds in good enough condition to reproduce successfully."
The topic is of so much concern that the 1986 North American Waterfowl Management Plan called for the establishment of the Black Duck Joint Venture to research black duck ecology, identify limiting factors and provide management recommendations. It is one of only two joint ventures assigned to a particular species.
Anderson's master's thesis work entails outfitting female black ducks with satellite transmitters to obtain critical information about spring migration. The ducks are trapped, measured and weighed, given federal leg bands for traditional tracking purposes and then equipped with the transmitter.
"Mature females, those in their third calendar year or older, and with a sufficient body weight, are outfitted with a harness and solar-powered satellite transmitter, almost like a little backpack," Anderson says. "Waterfowl are philopatric, meaning they will often return to the same location they were born to reproduce, sometimes even to their same nests."
During the winter of 2007-08, Anderson worked in conjunction with DU, the U.S. Fish and Wildlife Service and state fish and wildlife agencies in New Jersey, Ohio and Virginia to outfit 29 black ducks with satellite transmitters. An additional 31 ducks were released during 2008-09 in the same three states as well as in New York and Prime Hook National Wildlife Refuge in Delaware.
Anderson expects to present his preliminary results at the North American Duck Symposium in August. "Our initial analysis shows some interesting trends," he says. "Year two is bound to provide more information because more of the transmitters are responding."
Also studying black ducks are Matt DiBona, AG '07M, game bird biologist for the Delaware Division of Fish and Wildlife, and Dane Cramer, a UD master's degree candidate who works for the New Jersey Division of Fish and Wildlife and helped Anderson with trapping black ducks in that state.
"This project has been a unique collaboration of state, federal and private partners," Anderson says. "We hope to offer further insight into the reasons behind the decline and provide habitat recommendations for wildlife managers throughout the black duck's entire range."
To follow the black ducks, visit the DU Web site, www.ducks.org, and search for "black duck study."
Article by Katy O'Connell, AG '00