Biomedical collaboration gets a statewide boost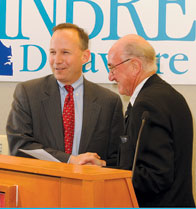 Photo by Duane Perry
RESEARCH | A new $17.4 million federal grant will support a collaboration among academic and healthcare institutions in Delaware to expand medical research programs in such areas as cancer, cardiovascular health and neuroscience.
"This announcement caps years of work among all of us here to put Delaware on the biomedical map and create an integrated research infrastructure joining the state's academic and medical institutions," UD President Patrick Harker said when the grant was announced by the National Institutes of Health in April. "Delaware just keeps growing in the sectors that breed 21st century prominence and prosperity."
The partnership program, the Delaware IDeA Networks of Biomedical Research Excellence (INBRE) is led by the Delaware Biotechnology Institute (DBI) at the University. DBI, a major research center for the life sciences, drove the development of the successful proposal. Six institutions—Christiana Care Health System, Delaware State University, Delaware Technical & Community College, Nemours/A. I. duPont Hospital for Children, the University of Delaware and Wesley College—partnered to win the grant.
DBI also managed the first INBRE program grant, awarded in 2002, which, among its accomplishments, catalyzed formation of the Delaware Center for Translational Cancer Research and the hiring of 50 new life sciences faculty across the state's academic and medical institutions.
"Our new INBRE grant will help build a new generation of health researchers for the 21st century workforce, to improve the health of the citizens of Delaware and expand health-based economic development in the state," said David Weir, founding director of DBI and leader of the INBRE effort. Weir was appointed executive director of UD's Office of Economic Innovation & Partnerships last year.
The new effort will encompass cancer, cardiovascular and neuroscience research programs; four new research centers, in bioinformatics, clinical outcomes research, cardiovascular research and neurosciences; and four new Ph.D. programs, in neurosciences, biomolecular science and engineering, bioinformatics and computational systems biology, and cardiovascular research. The program will provide funding for 80 graduate students and 150 undergraduate researchers throughout the state.
It followed on the heels of the announcement of a new Delaware Health Sciences Alliance, a coalition to provide leadership in health and health services, including Christiana Care Health System, Nemours, Thomas Jefferson University and UD. The alliance was announced in March during a conference at UD on health-based partnerships.
The new cancer research program will focus on cancer cell mobility and the role of specific proteins in metastasis, DNA repair, computer-based tools for simulation and early diagnosis of cancer and biomaterials for use in cancer treatments.
The cardiovascular research program will focus on the effect of kidney function on cardiovascular events, extra-cellular matrix remodeling in heart failure and biomaterials for cardiac tissue engineering.
The neuroscience research program will address molecular mechanisms of learning and memory, spinal muscular atrophy and cardiovascular autonomic nerve function in diabetes. A major goal will be to establish a new center for brain disease and translational neurosciences.
Barbara M. Alving, director of the National Institutes of Health National Center for Research Resources, which awarded the grant, referred to Delaware's INBRE program as being "at the forefront in developing a cyber-infrastructure network to address bioinformatics needs and applications to advance biomedical sciences.
"This award will help advance research to combat diseases including cancer, heart and neurological disease—research that may lead to improved health within the state and far beyond its borders," she said. "Through the power of shared resources, INBRE awards expand research opportunities and create a pipeline of competitive investigators crucial for the 21st century workforce."
Article by Tracey Bryant and Diane Kukich, AS '73, '84M