Leading the way to sustainability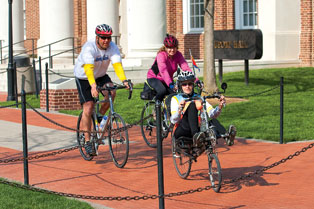 Photo by Kevin Quinlan
ON THE GREEN | Earth Day at the University this year included an announcement that UD will reduce its carbon emissions—virtually all of which come from the energy used in campus buildings and for transportation—20 percent by 2020.
At a special April 22 program, President Patrick Harker unveiled the University's Climate Action Plan, which also sets interim targets for carbon emissions, including reductions of 5 percent by 2012 and 10 percent by 2015, compared with the 2008 levels that were measured in a comprehensive carbon inventory of the campus.
Harker told a capacity crowd in the Rodney Room of the Perkins Student Center that the benchmarks will be met by focusing on four areas: green infrastructure, primarily the University's 350 buildings that are the source of 77 percent of campus carbon emissions; green energy, with 10 percent of UD's energy use in 2020 expected to come from such clean sources as solar power; sustainable transportation based on the development of a master plan that will emphasize improvements to bus and other transit systems; and green community action, which Harker called "the most essential part" of the action plan.
"I've never seen the community more mobilized," John Byrne, Distinguished Professor of Public Policy and director of UD's Center for Energy and Environmental Policy, said at the event. "This is the most aggressive plan in the United States. You can be proud of your University."
Byrne, a member of a working group within the International Panel on Climate Change that was awarded a 2007 Nobel Peace Prize, added that the commitment to a 20 percent emissions reduction by 2020 will put UD's efforts ahead of any other college or university.
Harker said the University's efforts leading up to the creation of the Climate Action Plan began last spring, when the Path to ProminenceTM strategic plan included a goal of becoming a leader in environmental education, research, technology and policy. "Of course," he said, "that entailed leading by example—that is, becoming a carbon-neutral, green university."
Also last year, Harker signed the American College and University Presidents' Climate Commitment, pledging to pursue carbon neutrality, reduce greenhouse gas emissions and publicly report on UD's environmental efforts and progress toward its goals. Another key step, he said, came when the Class of 2008 voted to use its class gift to fund the first-ever study of the campus's carbon footprint. The Class of 2009 recently voted to use its class gift to pay for solar panels.
"I do think this University is particularly fortunate to have a number of people on campus who are passionately dedicated to this cause, who are environmentally responsible themselves and who demand the same from the University," Harker said. Faculty and staff, as well as alumni, will have the opportunity to help support environmental initiatives on campus through the creation of a UD Sustainability Fund, he added.
Also speaking at the event was William Early, acting regional administrator for the federal Environmental Protection Agency, who called the 39th annual Earth Day "a historic day" and praised the University's action plan for reducing carbon emissions.
"The University of Delaware has taken a significant step today," he said. "Your commitment is a testament that these real-world reductions can take place."
For more information about the University's environmental initiatives, visit www.udel.edu/sustainability.