Orthopedic researcher wins top faculty honor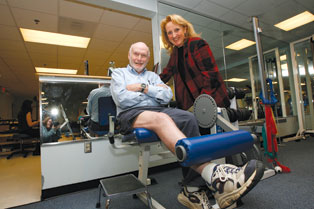 Photo byAmbre Alexander
ON THE GREEN | Lynn Snyder-Mackler, a certified sports physical therapist and certified athletic trainer who is an international leader in the field of orthopedic rehabilitation research, has received the 2009 Francis Alison Faculty Award, the University's highest faculty honor.
Snyder-Mackler, who is Alumni Distinguished Professor of Physical Therapy, conducts research focusing on knee, shoulder and spine rehabilitation and neuromuscular electrical stimulation. She currently is an investigator on more than $6 million in research projects funded by the National Institutes of Health and several foundations.
Established by the Board of Trustees, the Alison Award is given annually to the faculty member who best characterizes "the scholar-schoolmaster," as exemplified by the Rev. Dr. Francis Alison, who in 1743 founded the institution that is now the University of Delaware. Snyder-Mackler is the first faculty member in the College of Health Sciences to win the honor and the third woman among the 29 recipients of the award to date.
"Lynn Snyder-Mackler is a distinguished scholar and teacher whose expertise in physical therapy and orthopedic rehabilitation is recognized internationally," former Provost Dan Rich says. "Since she joined the University of Delaware faculty in 1989, she has made significant contributions in research, teaching and public service that have earned the respect of her colleagues in the academy, the appreciation of her students and the gratitude of her clinical patients."
Snyder-Mackler says she was thrilled to receive the award. "It's a huge honor, and I'm humbled," she says. "I really like the roles of 'scholar-schoolmaster.' The research and teaching that you do, and your interaction with patients in a clinical setting, always bring up more questions, which lead you to new lines of inquiry."
Currently, Snyder-Mackler is developing rehabilitation programs to enhance the recovery of muscle strength and function in older patients with osteoarthritis following total knee replacement surgery. She also is working on a non-surgical approach to rehabilitating torn anterior cruciate ligaments in selected patients.
She has written more than 100 research articles, 30 book chapters and monographs and textbooks on electrotherapy and sports physical therapy. She serves on the editorial boards of the Journal of Orthopedic and Sports Physical Therapy, Journal of Sports Rehabilitation and Physical Therapy in Sport and has given more than 165 presentations on her research in the U.S. and 12 other countries.
Stuart Binder-MacLeod, Edward L. Ratledge Professor of Physical Therapy and chairperson of the department, describes Snyder-Mackler as a "premier researcher" and credits her with bringing national and international recognition to the University.
"Most important, however, is the impact that her work is making to improve the lives of our patients," Binder-MacLeod says. "Her findings have helped to hasten the rehabilitation and improve the quality of life of countless individuals."
In addition to her research, Snyder-Mackler serves as the academic director of the graduate program in biomechanics and movement sciences and directs both the Physical Therapy Clinic and the Sports Physical Therapy Residency.
Article by Tracey Bryant