New graduates urged to remake America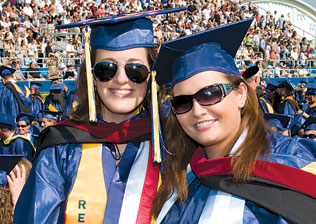 Photo by Kathy F. Atkinson
ON THE GREEN | Pulitzer Prize-winning journalist Thomas Friedman called on members of the Class of 2009 to restore the values of the Greatest Generation and to be the "Re-Generation" that America needs to lead the world to a restoration of economical and ecological balance and sanity.
Friedman made his remarks to some 3,400 degree candidates who attended the University's 160th Commencement on May 30, under crystal blue skies at Delaware Stadium.
Speaking to an audience of about 23,000—including parents, supporters and friends of the graduating class—the New York Times columnist said that his generation had equated excess with success and in the process squandered the abundance they had inherited.
"My parents' generation, your grandparents' generation, were the Greatest Generation. They earned that title because they built a world of freedom for us abroad by defeating the Nazis and winning the Cold War, and because they also helped to build a world of more freedom at home, thanks to the Civil Rights movement," Friedman said. "My generation, the Baby Boomers, well, we've been the Grasshopper Generation, eating through just about everything like hungry locusts."
As a consequence, he said, the Class of 2009 is entering a world where "both the economy and Mother Nature have hit the wall."
The task facing UD's newest alumni, Friedman said, is to use their campus experience to help regenerate, renew and refresh America as they enter a world where more things than ever are possible but where fewer things than ever are guaranteed.
"Your country needs you to bring the values you learned here," he said. "Take the imagination you've sharpened here, the activism you nurtured here, and be the 'Re-Generation.'"
The new graduates gave Friedman a standing ovation.
Speaking earlier during the Commencement ceremonies, UD President Patrick Harker called on the Class of 2009 to redefine success in the light of the current economic crisis.
"Consider your life's currency, your net worth, something other than your bank account," Harker said. "Give your time, your energy and your effort—your heart and soul—to something you believe in."
Efforts to improve the lives of others while pursuing justice guided by truth and compassion are "the deposits that count, and when they accumulate, that's wealth, that's abundance," Harker said. While career success is important, he said, it also is important to help others in the spirit that a number of UD students have done in projects around the world and around the corner.
Harker urged the graduates, who are now part of a worldwide network of more than 140,000 UD alumni, to do something great with the diplomas they have earned.
"You don't have an obligation to do anything meaningful with the advantages you've been given, but you do have an opportunity, and I ask you to take it," he said. "Let that be your measure of success, your American dream."
To view a podcast of the ceremony, visit www.ums.udel.edu/podcast.
Article by Jerry Rhodes, AS '04
Commencement continues a long tradition
Spring Commencement 2009 was the University's 160th such ceremony, and it opened as usual with a procession of alumni delegates from the classes of the 1940s through 2008. They represented the more than 140,000 alumni living in more than 80 countries.
Here are a few other facts about this year's Commencement:
• By the time they graduated, members of the Class of 2009 had already raised a record $100,000 as a class gift, which will fund solar panels to assist UD in its efforts to go green by reducing carbon emissions on campus.
• The estimated number of degrees conferred by UD since May 2008 totals 5,378, consisting of 328 doctoral degrees, 850 master's of arts degrees, 3,970 bachelor's degrees and 230 associate's degrees.
• The graduates ranged in age from 20 to 76, with eight graduates age 60 or older. This year's oldest graduating senior was Garth Dawson, 76, of Wilmington, Del., who earned a master of arts degree in liberal studies.
• Four students in the graduating class were honored for achieving the highest grade point index earned in full-time study. They were Vincent Baldanza, who received a degree in animal science with a concentration in preveterinary medicine; Keith Pluymers, an honors degree in history, with minors in philosophy and Irish studies; Tessa Reisinger, an honors degree with a double major in anthropology and biological sciences; and Lauren Wansor, an honors degree with a double major in economics and political science and a minor in history.
• The University is celebrating its 266th year of existence. The first class of 1743 included three signers of the Declaration of Independence among its 10 students.